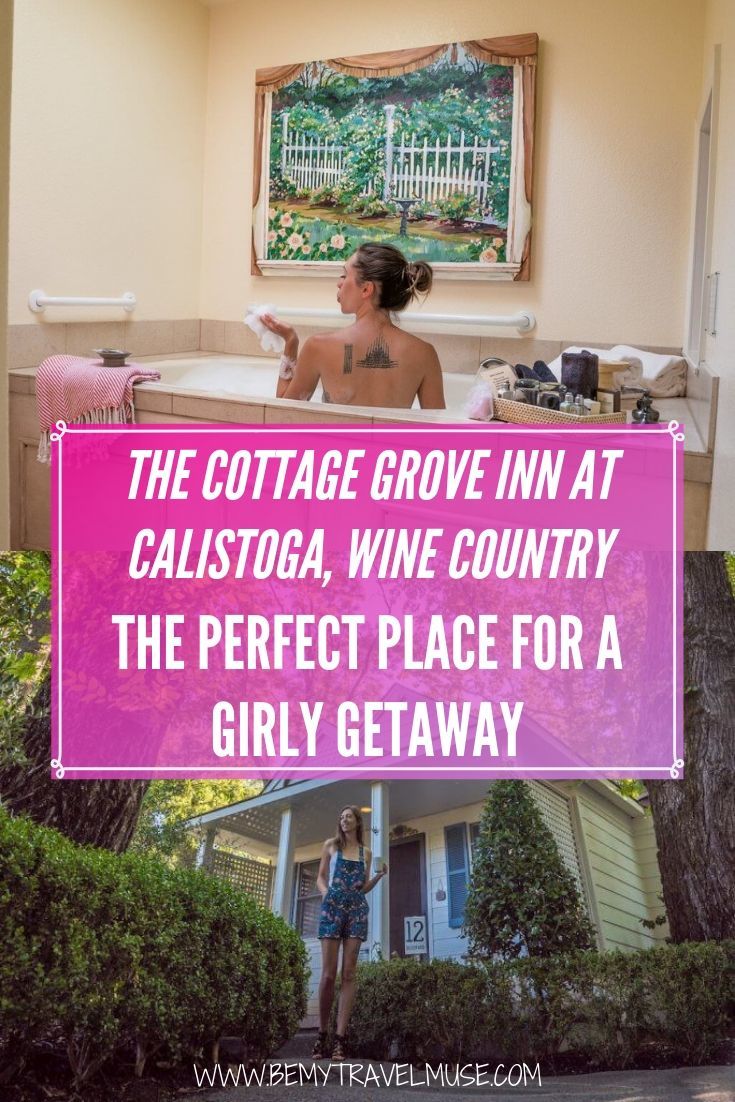 I opened my eyes and checked the time. I'd managed to sleep for 12 hours straight, saying goodbye to my jet lag and feeling grateful for the peace and quiet and that incredibly comfortable bed.
I had woken up back in California, right in wine country, one of the most beautiful places to visit just outside of San Francisco.
When one of my best friends from home and I were thinking of places to meet up over the summer, considering she lives way up north in California and I hail from the south of the state, wine country seemed like the perfect place.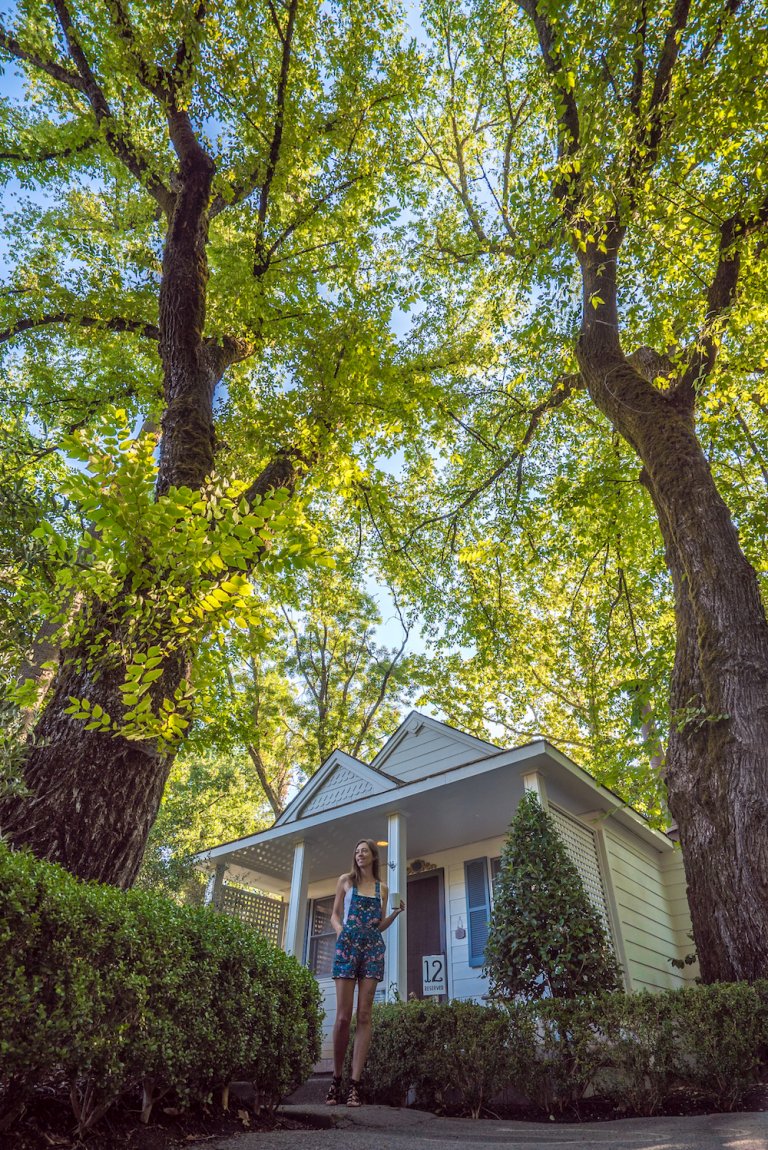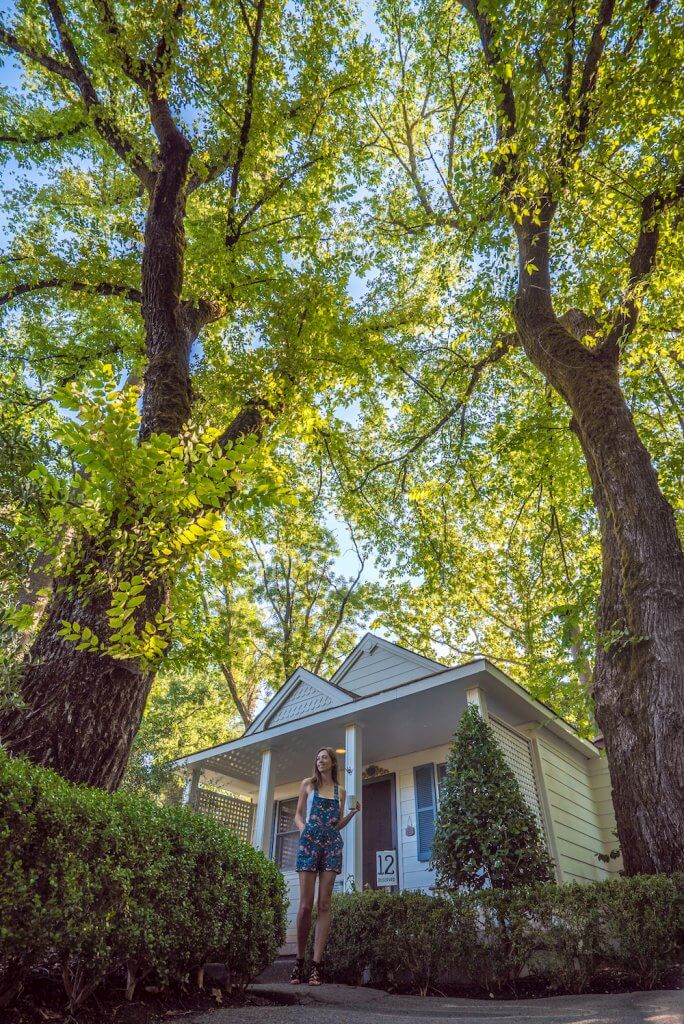 As much as I enjoy the beauty of Napa, the smaller town feel and more laid back atmosphere of Calistoga, located about 20 minutes north, suits us much better.
Plus, for a girl's weekend, we always seek a bit of nature as well, some space for adventures, and coziness, too.
Our adorable pink cottage at the Cottage Grove Inn had all of that, from a picture perfect little porch where we logged plenty of time looking up at the bright moon, the tree tunnel created by the old oak trees, and the California quails wandering around, to a plush interior with every amenity we could have wished for.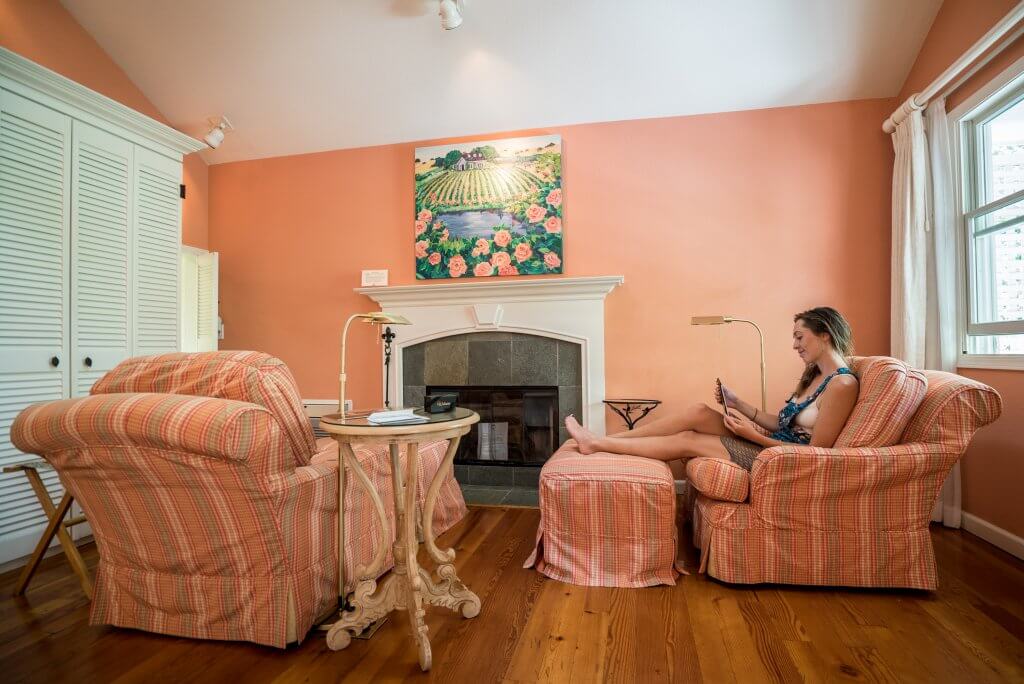 There was a little sitting area with comfy chairs for two, a little desk where I worked in the morning before she arrived, a huge bathtub with jets and lavender scented bath salts, a fireplace which I'm sure is handy in the cooler winter months, a little fridge and coffee area with snacks and a Keurig machine, skylights to keep it well-let during the day, but that face away from sunrise so you don't get woken up early, and that comfy bed I still can't get over.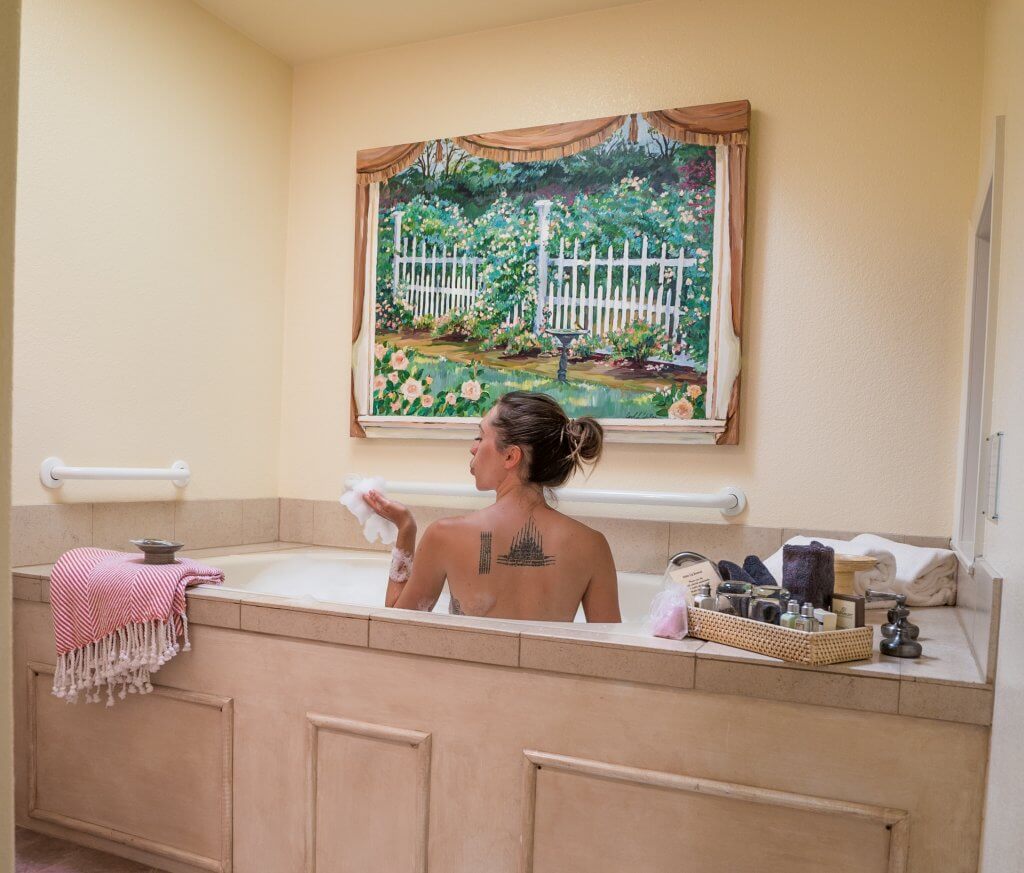 I loved that every detail had been thought of.
It wasn't just in the room that I felt that. Each morning there was a breakfast spread with healthy options like smoothies, freshly-prepared eggs and potatoes, cereal, espresso coffee drinks as well as filter coffee, juice, and granola parfaits.
There was always infused water available in the lobby with different flavors, there were bikes to rent, and each evening there were various varieties of wine, berries, chocolate, cheese, spreads, and crackers out. The girls who worked there even invited me to bring it back to my room if I wanted to. I loved that!
Additionally, they have bicycles available for guests to take out – which we did – to the various wineries and spas in Calistoga.
I've seldom stayed at a hotel that offered so many perks and comforts. We never paid for a breakfast, coffee, evening snack, or sundowner.
I had a chance to take a look at another room as well, which instead of pink, was decorated with greens and neutrals. Each of the cottages has its own individual decor.
Each also has a feature outside like a birdhouse, big trees framing the outside, perfectly manicured hedges, and its own parking space and walkway. Even though there are other guests at the property, nobody shares any walls. For a couple, that kind of privacy is wonderful.
Well, for a couple of girlfriends who are laughing and joking well past dark it's pretty nice, too.