A rooster rounded the corner and awkwardly stepped toward me, jutting his head out with each step and looking in every which direction, as roosters tend to do.
Just you and me, bud, I thought to myself, followed by wondering what, if anything goes on in a rooster's brain.
It was Christmas Day in Camiguin, an island in Mindanao, Philippines. Though ever so slightly off the typical tourist trail, I was a little surprised that there weren't many others around.
I had arrived the night before to a darkened guesthouse via a ferry from Bohol with only a few other foreigners, so it should have come as no shock that the resort was almost empty.
"No current," said the girl behind the desk, to indicate there was a power outage at the moment.
It was dark and I was tired. I ate a solo Christmas dinner of Chicken Adobo and went to sleep early.
The next morning, there was still nobody around.
It's okay, I told myself.  As a solo traveler, sometimes that means actually being solo.
But I really hate being alone! Especially on Christmas Eve! I argued with myself.
It's the life you chose, I settle on, and sometimes solitude is necessary.
A few hours passed and people started to show up.  A friendly couple of Americans who taught in Korea were on their holiday break and we made fast friends.  A few minutes later, the resort owner came by and asked if I'd like to have Christmas drinks later.  I said sure.
Later' came three minutes afterwards when he said, "so let's start!"
Before I knew it, I was sitting with three new friends, swapping stories and admiring the white island from our perch just a few hundred meters (or yards, whatever you prefer) away as the sun dipped below the horizon.
The next morning brought along scores of happy children, on a break from school for the holidays.
"What's your name? What's your last name? Where are you from? What are you reading? What's your mom's name? Your dad's name? Do you have a boyfriend? What did you do for Christmas? Is it snowing right now where you are from?"
Aged 11-14, they sat with me for a couple of hours, singing Christmas songs and bashfully asking questions. They marveled at my Kindle, having seen an e-reader for the first time. They read over my shoulder, mouthing some of the words as I read, wanting to know how much a Kindle costs.
"It's really hot today," said the most outspoken, a 13-year old boy in a bright green shirt whose name I truly wish I could remember.
"Why don't you go swimming?" I replied.
"I already had my bath today," he retorted. Made sense.
"Can we sit together in the shade, please?" he asked.  I agreed that we could and we all moved over a few chairs.  Just the day before, I was all alone.  Now, I had 12 new little friends to hang out with.
I asked if I could take their picture with my camera, which was cause for much excitement, followed by each of them trying it out, taking pictures of each other and the view.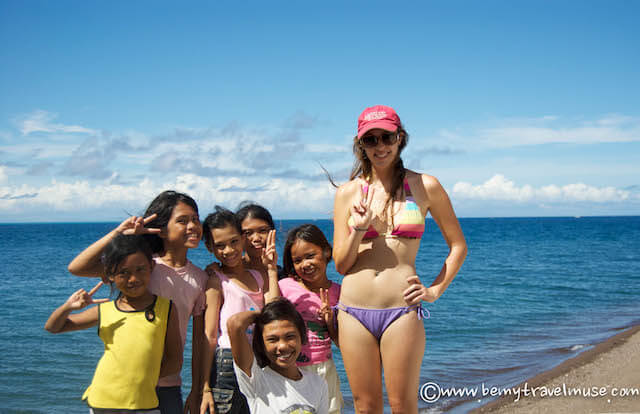 Later that night, I walked around with my new American friends as the locals wished us a Merry Christmas as we walked by.  It was heartwarming to be so welcomed.
It's these little things that tend to happen in places where fewer tourists flock, and to a solo traveler, that make it all a little more sweet and worth enduring the solitary times. I spent a couple more days in Camiguin, learning to love it for its relaxing atmosphere and beautiful brown sand beaches.
Go to Camiguin:
• Camiguin can be accessed via ferry like Super Shuttle that leaves Jagna in Bohol at 1:00 daily (as of this writing). Ferries also go to and from Cagayan De Oro
• Take a jeepney from the ferry port to Mambajao where most of the dive resorts and guesthouses are. This should cost 25-30 php per person (exact change, or close to it, is fairly essential)
• From Mambajao, negotiate with a tricycle (provides a motorbike with extra seats attached) to your guesthouse for 8-20 pesos per person
• Caves Dive Resort was a great place to stay and dive with, especially the backpacker rooms which are located right on the ocean
• Most guesthouses rent out motorbikes for a decent rate (350-500 php) so that you can explore the island's other beaches, volcanoes, and hot springs. The island has decent roads and is 67 kilometers in circumference