Day 1146
I used to write the amount of days I'd been on the road at the top of every post, as if writing in a diary. That's kind of what this blog has been for me. There's so much we've been through together in the last three years it blows my mind (and three years is really a pretty long time, right?) For those of you who have been with me from the beginning, and for those who are new or somewhere in-between, whether you send emails and make comments, or quietly read without ever saying a word, thank you for being a part of my life. You mean the world to me, literally.
Just like I always do, my way of reflecting on the year is to do so visually. After my first year of travels mainly in Southeast Asia, I did a post featuring my 30 best photos of the year, and after adding the Maldives, Sri Lanka, China, Nepal, and a bit of Europe into the mix, followed up with an additional 30 after my second year of consecutive solo journeying.
This past year was another year spent solo traveling, but this time one big fixture was missing – Asia. Instead I turned my sights towards somewhere new, and with your help making the decision, ventured into the African continent for the first time. Then, I fell in love.
It's also the first year I've spent the majority of in Europe, which I hadn't explored much of previously (and to be fair, still haven't).
So as a celebration of my third travel and blog anniversary, here are the 30 most awe-inspiring and gratitude-inducing photos I've taken over the past year in chronological order:
South Tyrol, Italy
South Tyrol, Italy, was my first new destination of my third year of consecutive travels and I definitely started it off with a bang.
I haven't often experienced Autumn before and to start it here, in a place that surprised me with how little it matched my typical image of Italy, made an impression to say the least (as you'll see later in this post, I liked it so much that came back again with my mom over the summer). I heard more German spoken here than Italian, ate more sausage and speck than pasta, and left with a new appreciation for Italy's diversity.
This one and the next few in this series were taken with my Nikon camera prior to upgrading to my current camera (more on that below).
Düppenweiler, Saarland, Germany
Haven't heard of it? That's not surprising, because this absolutely tiny village in Germany is home to only about 3000 residents.
I visited here as part of a freelance project that involved touring various Christmas markets around Germany, and while many were huge and dazzling, this one made the biggest impression because the residents were the cutest, friendliest people I encountered the whole week long. They made me feel so welcomed, offering me drinks and making me feel like a part of their traditions.
I love small towns the most when I travel for precisely this reason.
Mariannenplatz, Berlin, Germany
It was a privilege to finally get approved for my German residency and have the opportunity to spend so much more time exploring Europe this year. Pictured here is my neighborhood at the time in Kreuzberg after the first snowfall of the season.
Just a few days later I would board a plane to the Southern hemisphere to escape the rest of the winter, but I'm so grateful that I got to see my new favorite city coated in beautiful snow at least once before I left. As a California girl, I can't even remember the last time I experienced winter.
Golden Gate Highlands National Park, Free State, South Africa
South Africa's off the beaten path places came as completely unexpected to me. I was just blown away – more than I have ever been anywhere else.
I didn't know much about the country apart from thinking that Cape Town looked beautiful and Kruger Park sounded good (though I never actually made it there). When I road tripped from Johannesburg to Cape Town, I stopped in this national park for a hike and the only other living beings I saw there Kudu, Zebras, and Wildebeest. It was incredible to say the least.
Tugela Falls, Drakensberg, Free State, South Africa
One could hike in the Drakensberg mountains for weeks, but I only had a day as I had a flight to catch in Cape Town ten days later, so my road trip buddy and I made the most of our time by hiking to the second tallest waterfall in the world, Tugela Falls. We climbed vertical chain-link ladders to get to the top, joked around with horsemen from Lesotho, and took a VW Vevo more or less off-roading (you can see the video here).
It was the best.
Coffee Bay, Eastern Cape, South Africa
The Transkei (a stretch of coastline that Coffee Bay sits along and where Nelson Mandela was born) is my favorite part of South Africa. It's simply gorgeous and my first time through wasn't long enough, so towards the end of my time in South Africa I went back to experience it fully again.
I have to admit, my first night back there I thought to myself, "Everyone here is completely insane." I felt like I was in a Tarantino movie and it lived up to its nickname, the "wild coast".
Yet I stuck around and fell in love with it more with each passing day. I couldn't tear myself away. The more I played on the rolling green hills and swam in the cool blue water, the less I felt like being anywhere else. It's the strangest and most rugged places that tend to draw me in the most.
Valley of Desolation, Graaff-Reinet, Eastern Cape, South Africa
The rocky, arid, middle part of South Africa, called the Karoo, is an area most tourists skip and that even locals just stop briefly in while passing through from Cape Town to Johannesburg. I couldn't believe how little I'd heard about it before arriving because the peace I felt there was something I haven't often felt before. It was just so vast, humbling, and rugged. I felt so small and vulnerable yet inspired and powerful at the same time.
If you find yourself in South Africa, go there. Seriously.
Fish River Canyon, Namibia
After spending a total of nine weeks solo traveling through South Africa, having one of the most culturally enriching travel experiences I've ever had, I left South Africa with a promise to return. It made such an impression on me, and I plan to go back in November, hoping it still holds that magic I felt the first time.
The Fish River Canyon was my first introduction to another country I would come to love – Namibia. It is the largest canyon in Africa, and after seeing it with my own eyes, I believe it.
This was the beginning of 35 days camping in a tent while taking a safari through several more countries in the area. The adventure to follow would be unforgettable.
Dune 45, Sossousvlei, Namibia
Dune 45 at sunrise, while a semi-challenging hike in the dark, was an incredible sight when the sun rose.
I stole a few moments on my own on the side of the dune, scanning the horizon and just feeling so happy to be alive in that moment. It was the first time I had ever set foot in a sandy desert and I felt like a kid in the biggest sandbox on earth.
I didn't even see this photo until I processed my GoPro photos a full month later, but it's my hands-down favorite of the day.
Deadvlei, Namibia
These scorched skeletons of Acacia trees, well on their way to petrification after 900 years of standing under the desert sun, were hauntingly beautiful and somehow still felt so alive.
This was one of my absolute favorite experiences of my entire time in southern Africa. This landscape was so unique and the sand so fine and orange, I just couldn't believe my eyes nor contain my energy, running all around the sand and frolicking, barefoot until it got too hot, on this dry lake bed.
Spitzkoppe, Namibia
Spitzkoppe is a collection of granite rocks that are home to some of the oldest San (known informally as Bushmen, though that's considered a pejorative term), cave drawings on earth. It was pretty incredible to see them, still quite visible, and to imagine how the San fully lived off of such harsh and barren land back in the day.
They still do, though sadly to a much more limited degree due to land conflict and relocation.
Otjitotongwe Cheetah Park, Kamanjab, Namibia
There aren't many wild cheetahs left these days, especially around the farms in Namibia. Though I have a tough time with captivity given they're such majestic creatures, these cheetahs were trapped by local famers and, it was either come here to the park or be killed.
It's sad that they're so at odds, but I'm glad this campground exists to take in the regal cats which are otherwise considered pests in the area. They're well-fed and have lots of room to roam. From a purely selfish point of view, it sure was cool getting so close to an animal I never got a chance to see in the wild.
Etosha National Park, Namibia
While I saw tons of Springbok and they're probably the most plentiful animal in the entire park, I just loved how peaceful this scene felt as they drank from the camp's watering hole as dusk fell.
Also? Springbok are delicious. The carpaccio is highly recommended (I'm so sorry that all I can often think about on safari is how some of the animals taste and I'm guessing that in many instances, it's mutual).
Etosha National Park, Namibia
Etosha provided the largest variety of animal sightings of any safari destination I visited, including a honey badger, the rare black rhino, lions, giraffes, ostriches, and all kinds of quadrupeds (take a look here for the rest of the photos).
Okavango Delta, Botswana
Botswana was a country I really had no idea about prior to visiting. Though I went in with zero expectations, I left feeling like I had just spent a week in the Lion King.
Given the Okavango Delta is absolutely huge and difficult to traverse, a lightweight flight overhead is the best way to see a lot of it at once.
It also gave me rare peek at African elephants just doing their elephanty thing without any intrusion. What's more, even if I hadn't seen any animals at all, I still would have found the landscape absolutely astounding.
Okavango Delta, Botswana
A Makoro is a lightweight canoe-like vessel that is surprisingly hard to balance. Also, I should have been standing at the back rather than the front but whatever, now I know.
I stayed out there for hours wading through the delta, full of interesting and semi-lethal creatures. Yet it was so peaceful. I could have stayed for another week, at least.
Elephant Sands, Nata, Botswana
Elephant Sands Lodge and Campgrounds is THE place to see wild elephants up close and personal.
Seriously, I even got roared at when coming out of the bathroom at night. You should have seen how quickly I booked it back to the rest of my campmates!
Thanks to the fresh water pond at the campgrounds, tons of wild elephants come by to bathe and drink. I sat there in awe as I got closer than I've ever been to such massive, majestic creatures, separated by a short concrete wall and nothing else.
Chobe National Park, Botswana
Chobe National Park was one of the best safari experiences, as we did all of our animal-sightings by boat, followed by one of the most intense sunsets I've ever seen. Even now, my heart races a little faster as I think about all of the amazingness I saw. It was almost overwhelming.
Victoria Falls, Zambia
Vic falls straddles the border between Zambia and Zimbabwe, and while I saw it from both sides, I prefer this photo as it's my clearest shot (thanks to rainy season, I took many waterfall showers while seeing it from all angles!).
This is also an adrenaline junkie's dream, and where I did no fewer than three canyon swings (which is a bungee jump followed by swinging back and forth at the bottom once you're done falling). I would've done more, but my back started to protest.
South Luangwa National Park, Zambia
Seeing a hippo was ridiculously high up on my safari wish-list. I had no idea whatsoever of what to expect out of Zambia, but after seeing wild elephants right outside of my tent, hearing hippos bellow from a (short) distance away, and seeing a leopard during a glorious sunset safari ride, my interest was piqued and my thirst is far from quenched.
I would never get tired of seeing these guys.
Kande Beach, Lake Malawi, Malawi
Lake Malawi is positively massive. Standing on the shoreline, I could have easily been convinced that I was looking at the ocean. The waves, and especially current, were stronger than at any other lake I'd felt, and even more-so than most oceans.
The people of Malawi are particularly memorable as well, often asking for a photo in hopes that it will come back to them via mail. The reason for this is heartbreaking – It's the only way that they can keep physical memories of their younger selves, as few of them have access to cameras, much less printing facilities.
Southern Africa Compilation
For the first time, I'm including a video in my yearly round-up as I move more into this form of self-expression.
I'm still learning, but if you should join the ride! You can subscribe here.
Zanzibar, Tanzania
I loved these sideways sails. They were almost musical in the way that they grazed the incredibly blue water.
Zanzibar, Tanzania
I took this candid of my friend Maddie on my final night in Africa, a continent I had a love affair with for nearly four months from January to April.
I had no idea how much this part of the world would grip me. The sunsets are somehow more vibrant, the struggles more intense, and the profound connection to the earth more pronounced there. Going to Africa is going home.
Gardens by the Bay, Singapore
I finally had a chance to visit Singapore during a 6-day layover thanks to the crazy cheap RTW ticket I got in May.
Lots of people told me that I would need three or so days, max, to see all that there was to see in Singapore. I couldn't disagree more. The food is phenomenal, the city is full of friendly people, and there are tons of facets and neighborhoods to explore. I look forward to returning one day. This one was also taken with a GoPro (it was the only way to fit so many into the shot).
Giant's Causeway, Northern Ireland
Come May, it was time to return to Europe for the summer and I was beyond stoked to get a freelance project in June in Northern Ireland, mainly because I knew I'd get a chance to visit the Giant's Causeway.
It was formed thanks to volcanic activity (or feuding giants, depending on how much you love fantasy) and today, serves as Northern Ireland's most popular tourist spot. Here's a tip: If you head there before 9am, you can get it more or less to yourself.
Igls, Tirol, Austria
Innsbruck in Austria was the second stop my mother and I made when she visited me this summer and we followed my grandmother's journal around Europe.
While mom and I weren't blown away by the hiking in Innsbruck itself, Igls was just a short bus ride away and had a stunning and rather easy panorama trail. It was a definite highlight for us.
Right before we took this trip, I upgraded my camera equipment and the resulting photos were even better and more detailed than my previous ones.
Lago di Braies, South Tyrol, Italy
Lago di Braies in South Tyrol, Italy was the third stop I made with my mother and she said it right when she exclaimed, "this place is on steroids."
I mean, it doesn't even look real, and it didn't when I was standing there staring at it in person, either.
From here to the end of the post, photos taken with my new camera, a Sony A6000, are featured.
Stellisee, Zermatt, Switzerland
I'm a mountain-lover, and the Alps are just jaw-droppingly (if it wasn't a word before, it is now) gorgeous. I don't know whether I've hiked anywhere more spectacular before. They beat out the Himalayas of Nepal in my mind, which used to hold the number one spot.
Thanks, Mom, for taking this awesome photo.
Hohentwiel Castle, Baden-Württemberg, Germany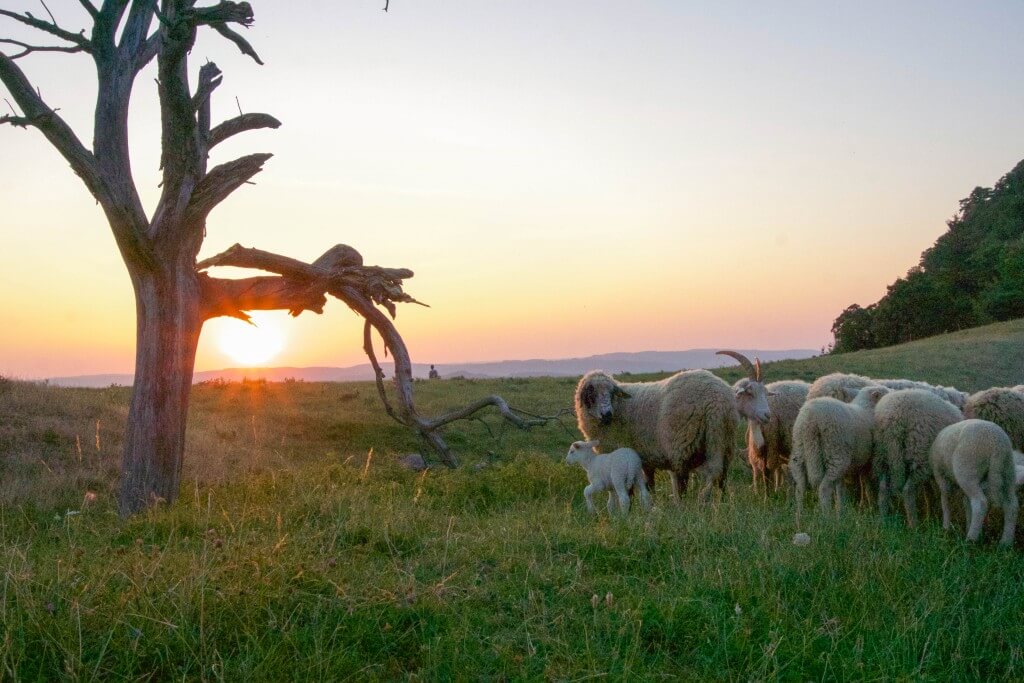 Pictured here are some sheep (who were really not excited about having me around, despite how peaceful they appear) at sunrise just below Hohentwiel Castle, which is located close to Lake Constance on the border of Germany and Switzerland.
I was here to work on a freelance project – the first video I've ever directed, produced, and shot entirely on my own. I even wrote a voice over that I recorded and re-recorded five times. I was so nervous about how it would be received, so let me know what you think if you wish (you can check it out here).
—
Thanks for another amazing year. As I move into my fourth, I can't wait for the things to come, and for this blog, and both of our journeys, to get even better.
What was your favorite spot from this list? Where would you like to go most?