The more I travel the world, the more I have come to appreciate and fall in love with the American West. There's nowhere in the world like it in terms of sheer beauty and diversity — both of landscapes and people.
Where else can you experience one of the hottest deserts on Earth, the tallest trees, the most famous coastline, world-class skiing, the glitz and glamour of Hollywood, and the sweeping canyons and rock arches of Utah — all in one region? It would take a lifetime to explore it all, and then some, but the following road trips can help you get a taste of each of these incredible places.
The following are some of the best road trips in the western USA, from state to state. These trips follow a somewhat logical loop, beginning in California.
California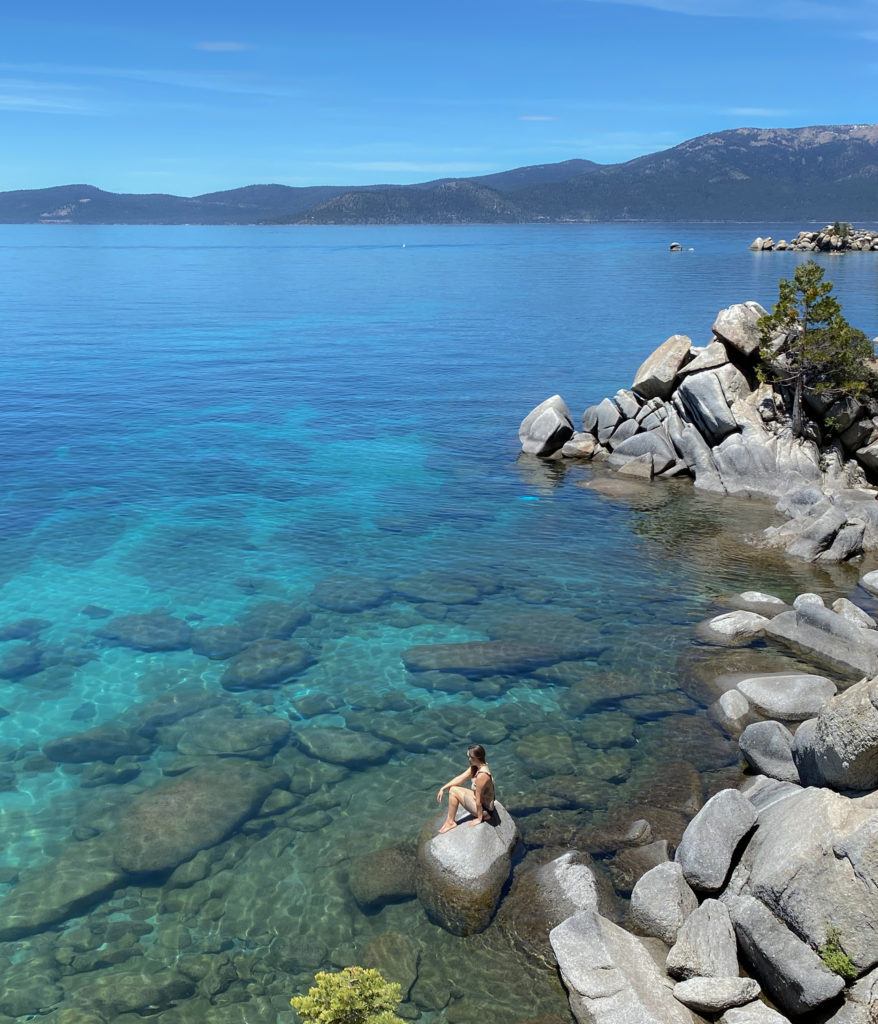 The Golden State is one of the most diverse in the nation, with a world-famous coastal drive, a wealth of national parks, and deserts that cover 25% of the state. There's so much to see, but a few road trips cover the highlights:
➵ Rent a car in California here
Pacific Coast Highway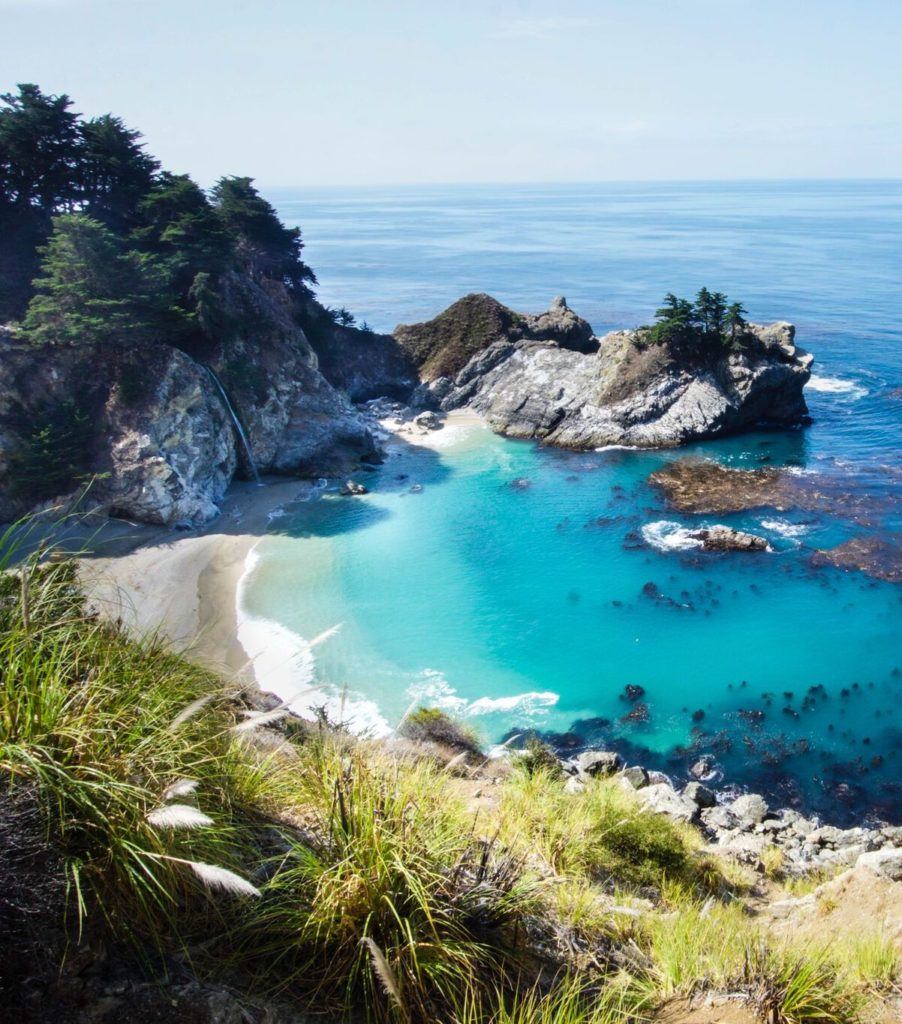 This might be the most famous road trip in the entire country. The Pacific Coast Highway takes you down the California coast, making for a wonderful road trip full of picturesque spots. You'll cover nearly 800 miles, so spend about a week on this trip, minimum.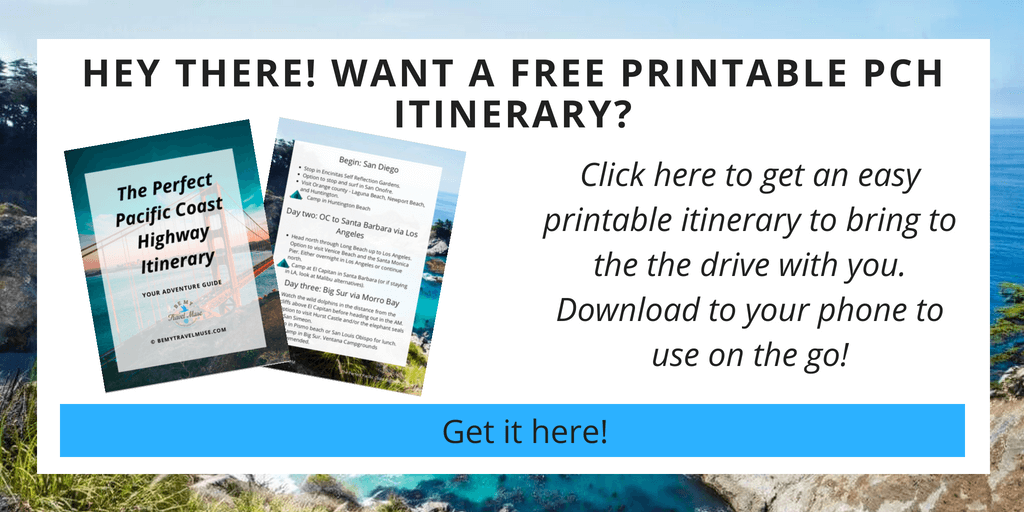 San Diego: Start your road trip in one of California's southernmost cities, where surfers and great Mexican food abound.
Los Angeles: Cruise 120 miles north to LA, where you'll find everything from skyscrapers to colorful sunsets over the Hollywood sign. Stop in Orange County on the way for spectacular beaches and Disneyland.
Santa Barbara: Enjoy views of the Pacific Ocean on the 95-mile drive up to sunny Santa Barbara, where you'll camp overnight.
San Luis Obispo: Continue on another 95 miles to stop for lunch in San Luis Obispo or another destination in SLO County, like Pismo Beach.
Big Sur: Drive 110 miles to Big Sur, where you'll admire seaside cliffs and waterfalls, and camp among the tall redwood trees.
Carmel/Monterey: Upon leaving Big Sur, drive 30 miles north to Carmel, where you can cruise the famous 17-Mile Drive through the Monterey Peninsula on the way to San Francisco, another 125 miles up the coast. If you don't want to rent a car, consider this tour of the area, which leaves from San Francisco.
San Francisco: Spend a day in San Francisco, where you can explore the funky Haight-Ashbury neighborhood, shop on Fisherman's Wharf, walk around the Presidio, and much more.
Humboldt County: Drive the last 280 miles of the trip up to Arcata in Humboldt County, often called "the Lost Coast" for its complete lack of tourism. Walk along empty stretches of beach and enjoy the peace and quiet. Stop in Fort Bragg if you have the time!
Check out the full PCH itinerary here!
California Deserts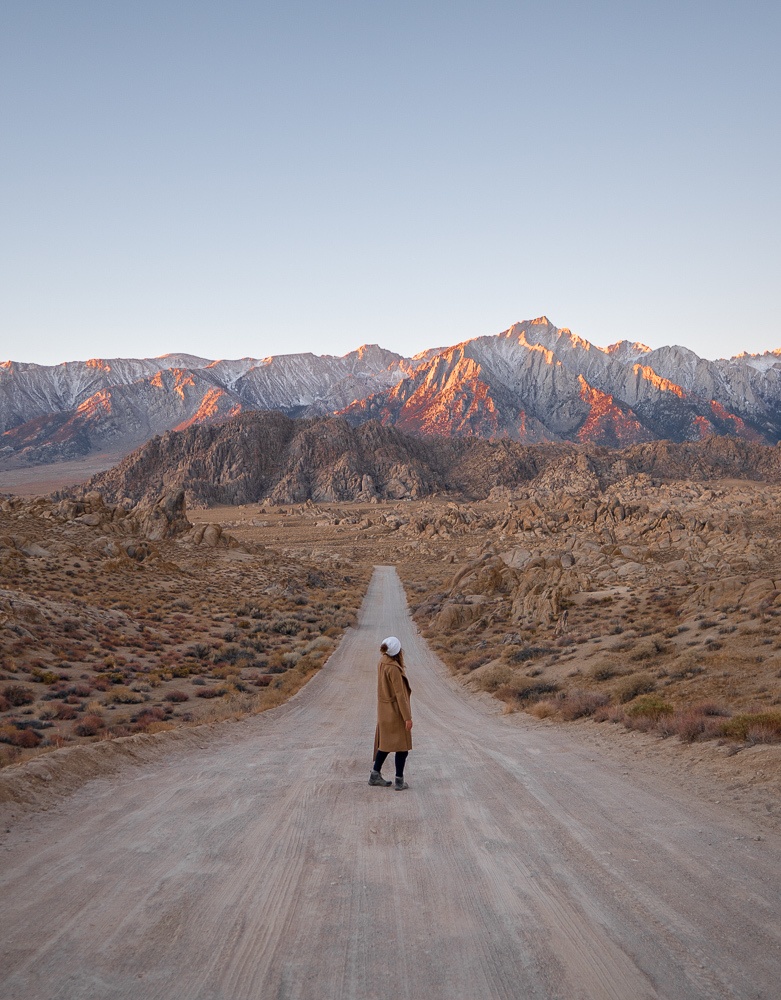 Most people don't go on a trip just to see deserts, but they're missing out! This 430-mile, six-day trip is as varied as it is beautiful.
Read more about this California deserts itinerary here!
Nevada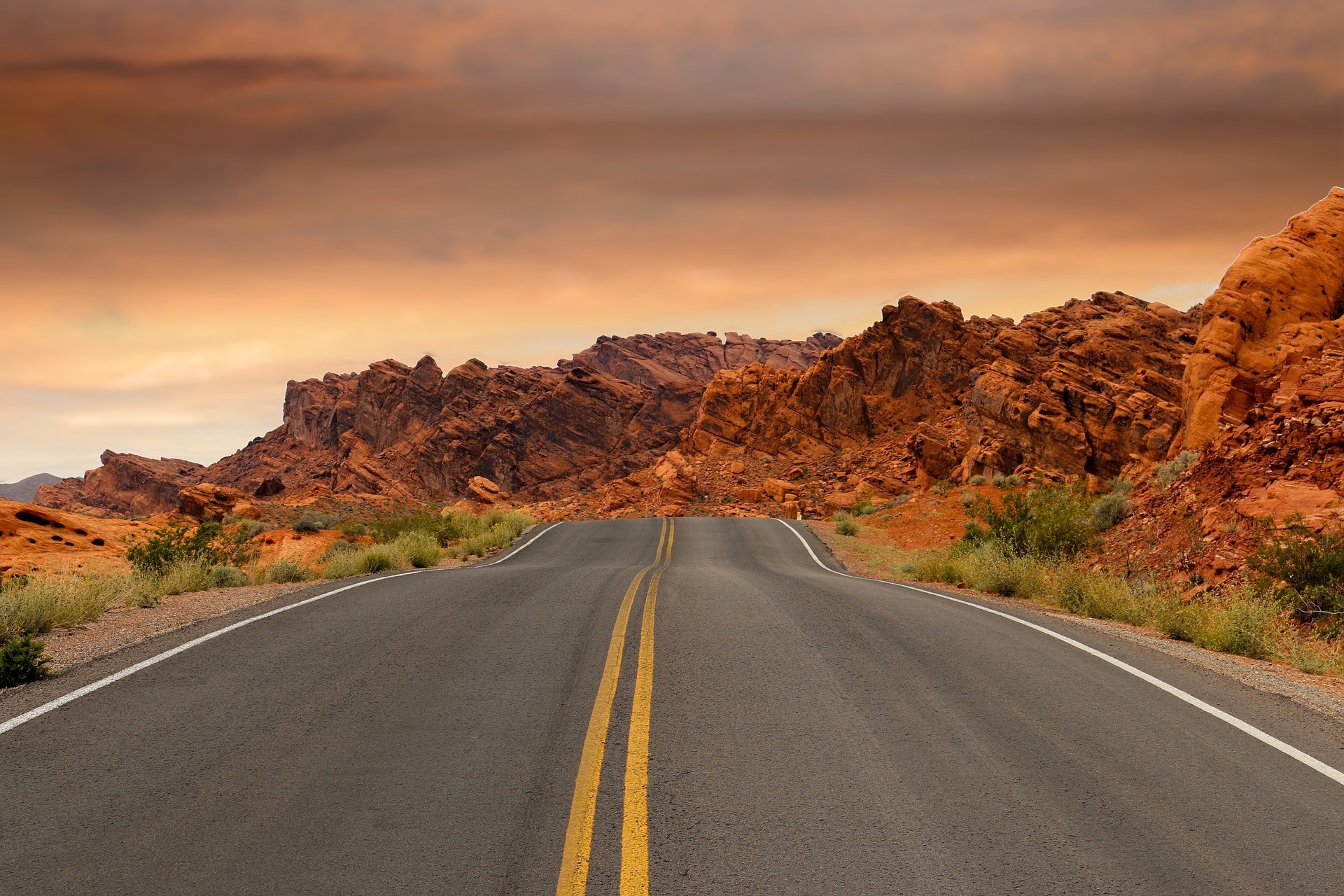 Nevada might just be one of the American Southwest's most underrated states, simply because people don't know much about it besides Vegas and Tahoe. While those are both awesome places, there is much more to explore. A road trip like this one is the best way to discover the Silver State for yourself. With every stop mentioned below, it covers nearly 900 miles and takes about five days:
Seven Magic Mountains: Check out this art installation of painted and stacked rocks lying between the mountains and Interstate 15, 25 miles out of Vegas.
Las Vegas: Vegas makes a great girlfriends' getaway, so it would be a perfect stop for a day or two if you're road-tripping with friends! You can also venture to the Nevada side of Death Valley on this day tour.
Grand Canyon: The Grand Canyon is a no-brainer. You can even take a helicopter tour from Vegas like I did!
Valley of Fire: Camp at this state park, 50 miles from Vegas, and check out Seven Sisters, Elephant Rock, Beehives, and Fire Wave Trail if time allows. Join a hiking tour for some scrambling fun.
Historical ghost towns: Nevada is home to countless historical ghost towns, which make for cool stops. Be sure to check out Belmont Mill (north of Valley of Fire) and Gold Point (northwest of Vegas).
Hot springs: Nevada has more hot springs than any other state, so be sure to incorporate a few of them into your road trip. Soldier Meadows and Black Rock (in the northwest), Spencer (dead center), and Gold Strike (down south) look especially cool.
Tahoe: From the northwest hot springs, drive south 170 miles to go stand-up paddleboarding on the crystal-clear water of Lake Tahoe or hiking in the hills surrounding it.
Reno to Las Vegas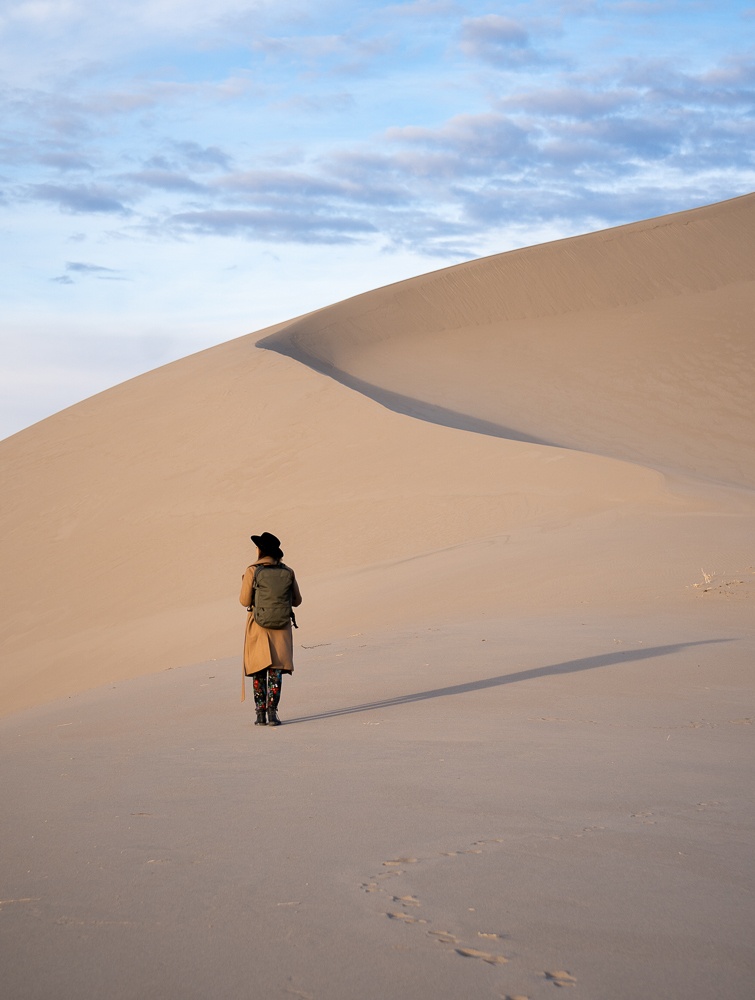 If you can't do the entire 900-mile trip outlined above, consider traversing Nevada between Reno and Las Vegas instead. This is about half that length and features some exciting stops along the way:
Fish Lake Valley Hot Well: This hot spring has some gorgeous scenery around it. You can swim and even camp nearby if you fancy.
Tonopah: Halfway between Reno and Las Vegas, this historic town is a great spot to spend a night or two. You can even stay in the so-called haunted Mizpah Hotel, if you dare.
Goldfield: This quirky town is definitely worth a stop to check out the wacky art installations at the International Car Forest of the Last Church.
Rhyolite and the Goldwell Open Air Museum: This is another artsy stop, where you'll find large statues and other head-scratching installations.
Charleston Peak and Red Rock Canyon: Although it's a bit off Highway 95, the detour is worth it if you want to get out and stretch your legs with a hike before arriving in Las Vegas.
Utah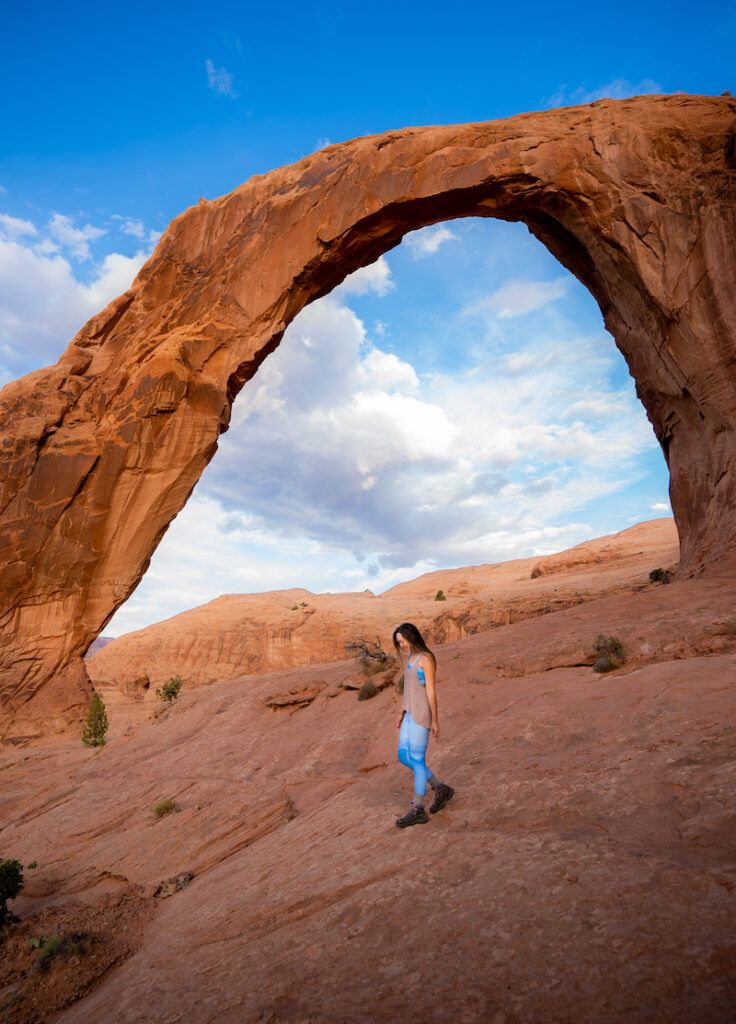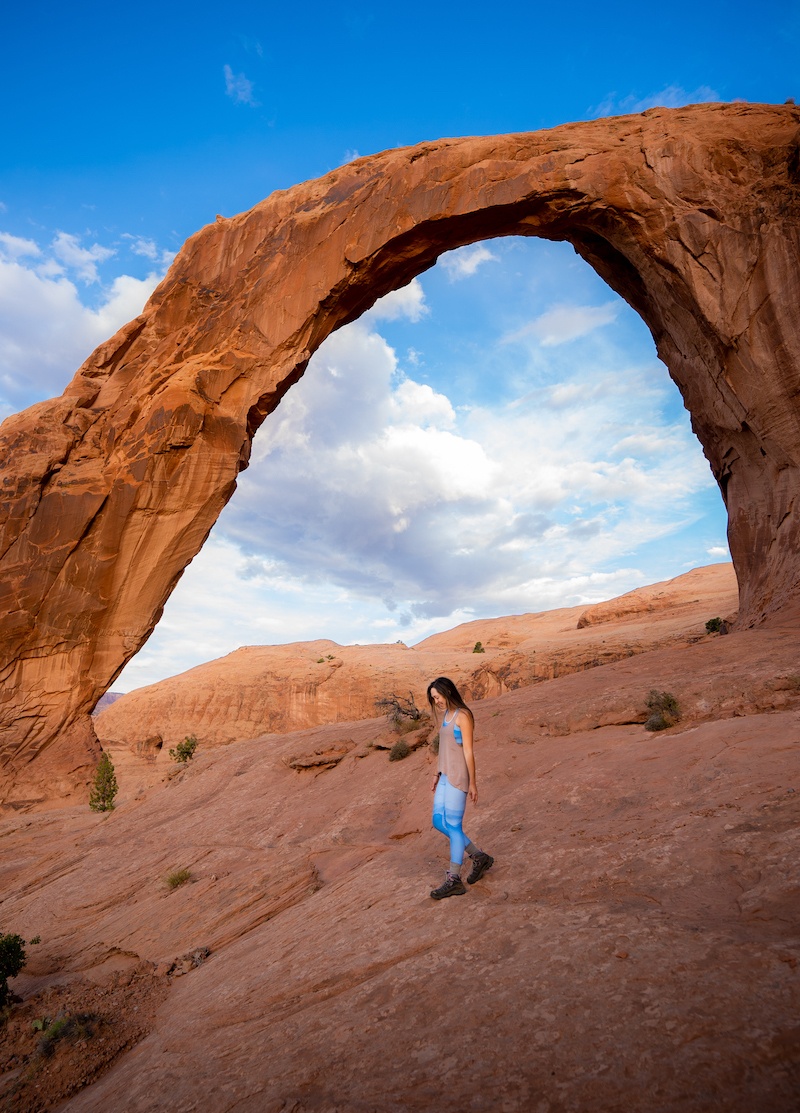 Utah is one of the best destinations in the US for seeing the great outdoors. Here is a ten-stop itinerary for the lesser-known sights of southern Utah, spanning 550 miles and taking about five days: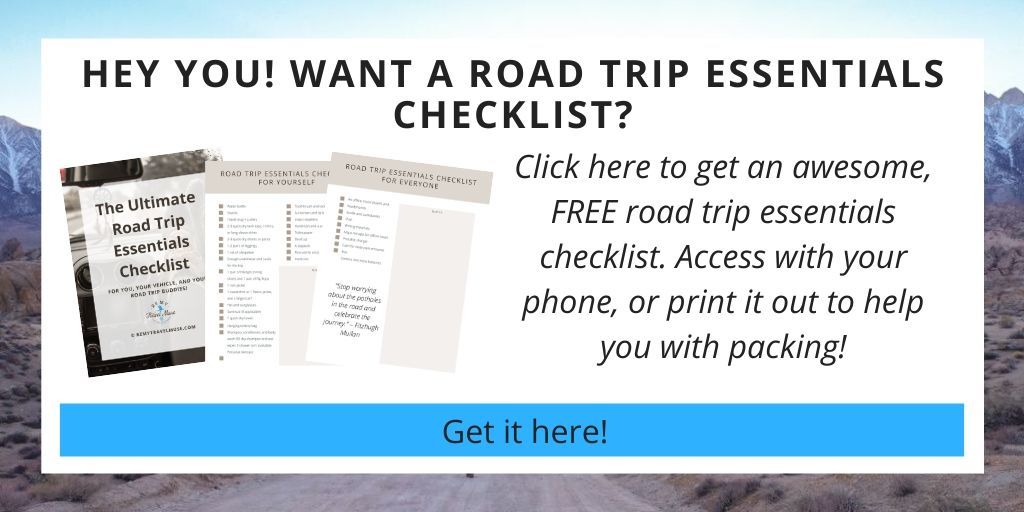 Dead Horse Point State Park: A unique road trip through Utah begins at Moab's Dead Horse Point State Park, which is just as geographically impressive as the Grand Canyon, minus all the tourists.
Canyonlands National Park: A short drive away, Needles Overlook at Canyonlands provides a scenic drive up to a 360-degree viewpoint of southern Utah.
Bears Ears National Monument: Drive 115 miles south from Moab to just past and west of Blanding, where you'll be able to check out the ancient cave drawings at Bears Ears.
Valley of the Gods: Camp on the free public land at Valley of the Gods and wake up to awesome views of red-rock formations. It's gorgeous at sunset.
Goosenecks State Park: Only ten miles away, Goosenecks State Park offers a panorama of the Colorado River winding through the canyon below.
Natural Bridges National Monument: For your last stop near Blanding, hike the three major bridges at Natural Bridges National Monument.
Goblin Valley State Park: You can stroll through the mushroom-like red rock formations 130 miles away at Goblin Valley State Park.
Little Wild Horse/Bell Canyon: These two slot canyons, right next to Goblin Valley, resemble the more popular Antelope Canyon.
Mystic Hot Springs: This beautiful and relaxing hot spring is just northwest of Capitol Reef and is the ideal place to rest for a night or two to soothe your sore muscles after all that hiking. Find out more about Mystic Hot Springs here.
Capitol Reef National Park: Seventy more miles gets you to Teasdale's Capitol Reef National Park, where you'll see massive rock formations rising out of the ground.
Grand Staircase-Escalante National Monument: Your last destination is Big Water, where you can spend a day hiking Coyote Gulch in Grand Staircase-Escalante National Monument. Get a self-guided driving tour to discover some of the hidden gems in the area.
For more tips and tricks, check out the full itinerary for Utah's best secret places!
The destinations covered in this section, as well as some of the Nevada suggestions and the following Arizona ones, are included in my more in-depth American Southwest road trip itinerary as well.
Arizona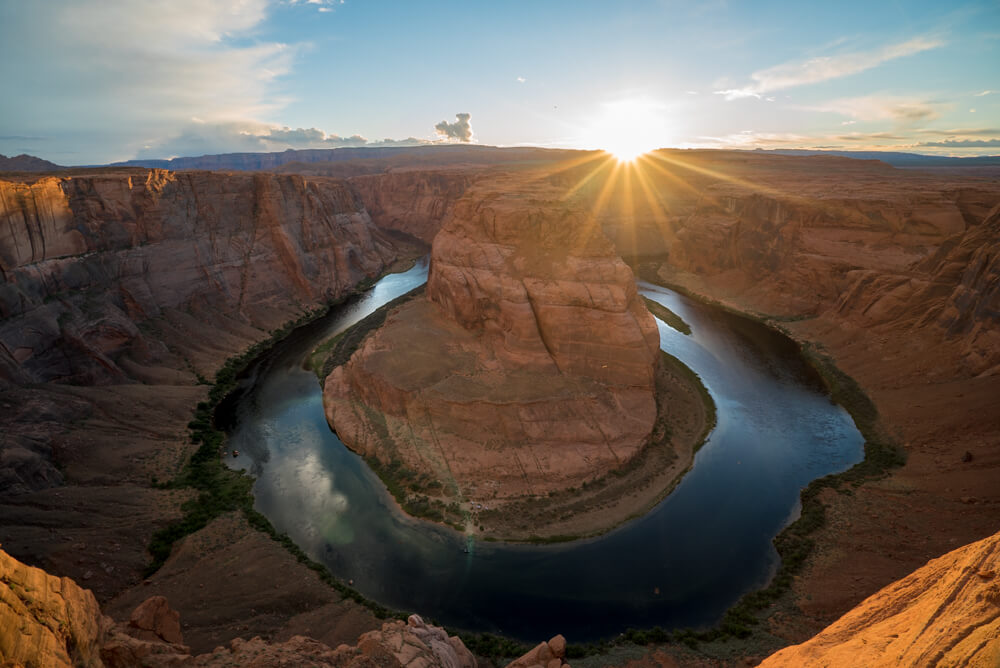 Arizona's abundance of natural sights means that you'll see everything from waterfalls to massive rock structures on this week-long road trip, which covers almost a thousand miles.
Sedona: Artsy Sedona is famous for energy vortexes, and with great hikes like Devil's Bridge, Bell Rock and Cathedral Rock, you could easily spend a day or two here.
Havasu Falls: 205 miles southeast lies the beautiful blue Havasu Falls, which is worth the permit and ten-mile hike required to reach it. Here's all you need to know about making it happen.
Grand Canyon: It's a 200-mile drive to the South Rim of the Grand Canyon, where you can enjoy the views along Desert View Drive, watch the sunset at Yavapai Point, and check out the lesser-known Lipan Point, spending the night in either Flagstaff or Cameron.
Horseshoe Bend: Continue the sightseeing at picturesque Horseshoe Bend, another 120 miles north towards Page, where you can get some stunning sunset photos.
Antelope Canyon: A bit east is Antelope Canyon, the world's most famous slot canyon. Check out more info about Antelope Canyon here!
The Wave/White Pocket: Sixty miles away, the Wave sits at the Arizona-Utah border and requires a permit, but its neighbor White Pocket is much easier to see. (Read more about White Pocket here.)
Monument Valley: Drive a couple hours east to Monument Valley, where the rock structures seem to rise up out of nowhere.
Canyon de Chelly: A hundred miles back down south lies Canyon de Chelly, a frequently overlooked destination, where you can take a guided hike through the canyon or head up to Spider Rock Overlook on your own for great views.
Petrified Forest National Park: 110 more miles south toward Phoenix, the multicolored buttes full of fossils and wildflowers at Painted Desert are certainly a sight to see.
For more details on hikes, national parks and monuments, tours, and routes, check out this full guide to an Arizona road trip!
New Mexico
New Mexico is perhaps the best destination to see both Spanish influence and Native American heritage, as well as incredible natural attractions like volcanic craters. This northern New Mexico road trip, which will allow you to enjoy a bit of everything this unique state has to offer, covers 475 miles and takes about five days:
➵ Rent a car in New Mexico here
Northern New Mexico
If you want a longer trip to see more of New Mexico, this road trip will take about 2-3 weeks and covers more ground:
Full New Mexico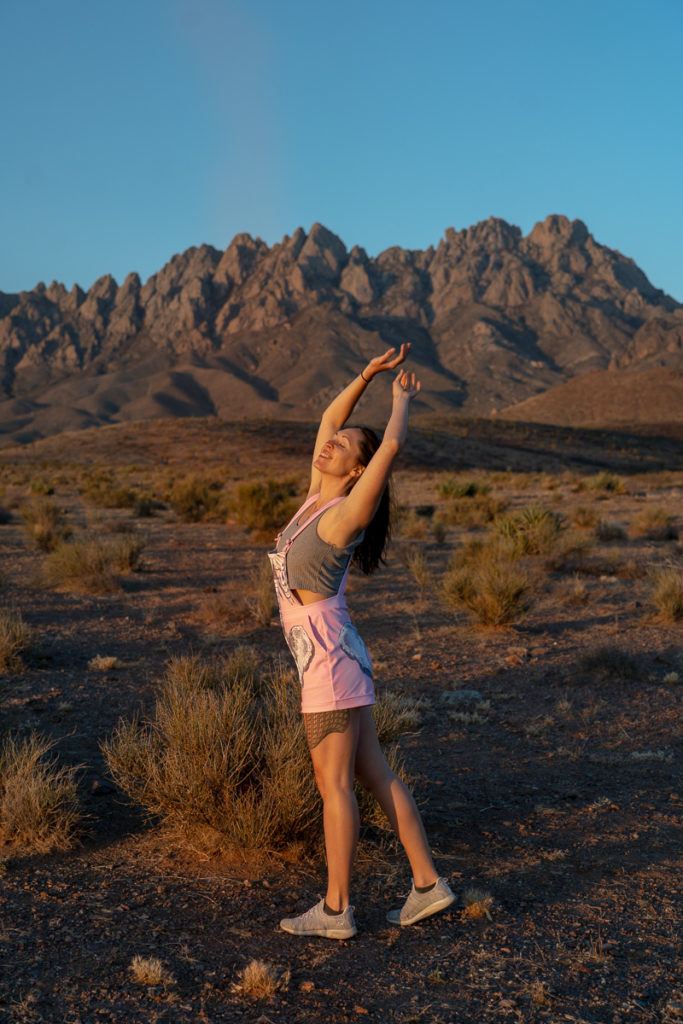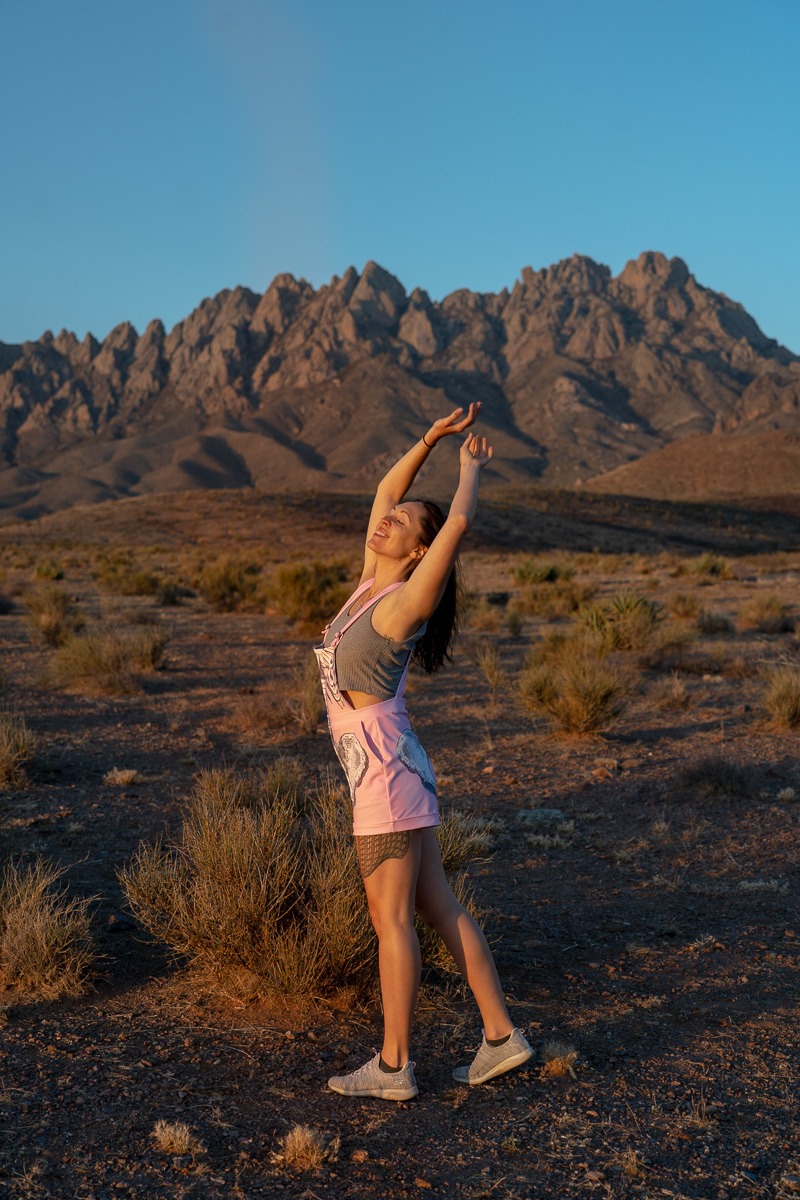 Las Cruces: This is the southernmost large city in New Mexico, making it the perfect starting point to go from south to north.
White Sands National Monument: For the same reason why this stop is mentioned on the previous New Mexico road-trip itinerary, definitely add this one to your list.
Carlsbad National Park: Featuring over 119 caves, this is an interesting place to explore an underground natural wonder.
Truth or Consequences: A small town with a gorgeous hot spring, this is the perfect place to relax and even see some wildlife.
Albuquerque: If you're not into stopping in a city, leave this one out. Albuquerque does have some interesting sights to check out though (see above), especially if you're a Breaking Bad fan.
Turquoise Trail, ttop in Madrid: Stopping in Madrid is a must on the scenic drive between Albuquerque and Santa Fe. It's a quirky former ghost town that is now the home of many artists who gave it new life. There are some excellent art galleries and neat shops here.
Santa Fe: Known for its artsy scene, Santa Fe is an incredible destination all on its own (see above).
Jemez Springs: Whether for hiking, bathing in hot springs, and taking a scenic drive, Jemez Springs is the ideal spot to stretch your legs and spend some time in nature.
Bandelier National Monument: Head here to check out some historic cave dwellings that date back over 11,000 years.
Taos – Earthship Biotecture: This resourceful biotecture community includes over 70 earth houses that exist completely off grid. You can even stay overnight in one of these earthships!
Bisti Badlands: This might be a bit of a detour, but definitely still worth visiting. This is one of the most epic places in the country to see unique rock formations.
Find out more about this full New Mexico road trip itinerary here.
-READ NEXT-
38 Unique Things to do in New Mexico
Idaho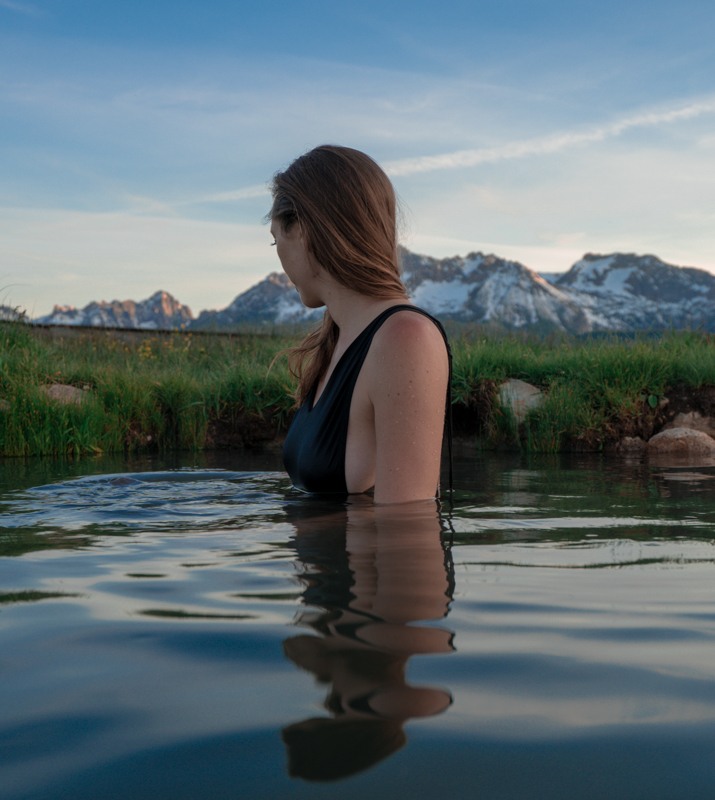 While winter isn't typically road trip season, it certainly can be in Idaho when it means hopping between hot springs! This itinerary leads you to some of Idaho's best springs over nearly 250 miles and five days:
The Springs: From Boise, drive 40 miles to Idaho City, where The Springs, one of the more spa-like hot springs, offers a private jacuzzi with a server to bring you snacks and drinks.
Kirkham Hot Springs: Continue 40 more miles to Lowman, where the Kirkham Hot Springs on the Payette River offers steaming waterfalls and incredible mountain views.
Mountain Village Resort: The rustic Mountain Village Resort in Stanley feels like a winter wonderland when it snows. Staying at the hotel gets you free access to the spring-fed spa pools.
Boat Box Hot Springs: A few miles outside Stanley, Boat Box — which isn't a pool in the ground but a small metal tub that looks like a witch's cauldron — sits right on the river.
Sunbeam Hot Springs: Only ten minutes beyond Boat Box is a single pool with the potential for some peaceful solitude.
Goldbug Hot Springs: Another 55 miles gets you to the famous Goldbug Hot Springs, different pools of varying temperatures, which all have incredible views.
Sun Valley: Back up toward Stanley, Sun Valley is a fun and friendly town with a few nearby hot springs.
Check out the whole guide to Idaho hot springs here!
For a more summer-oriented road trip from Boise to Stanley, including Craters of the Moon, check out my five-day Idaho itinerary! This is the perfect segue into the next stop: Montana, or east to Wyoming!
Montana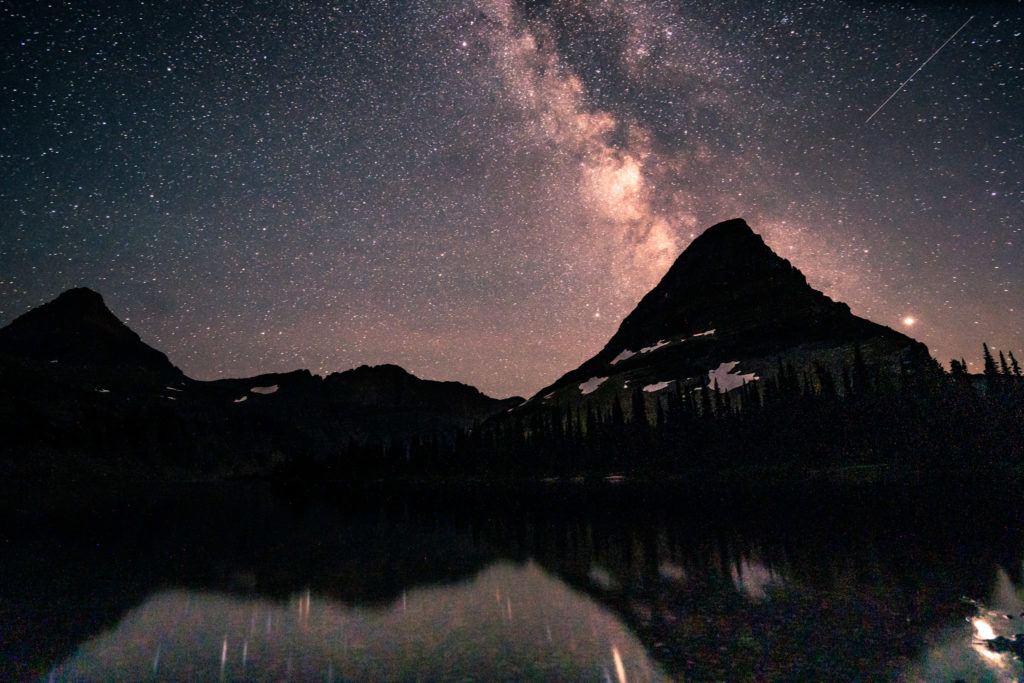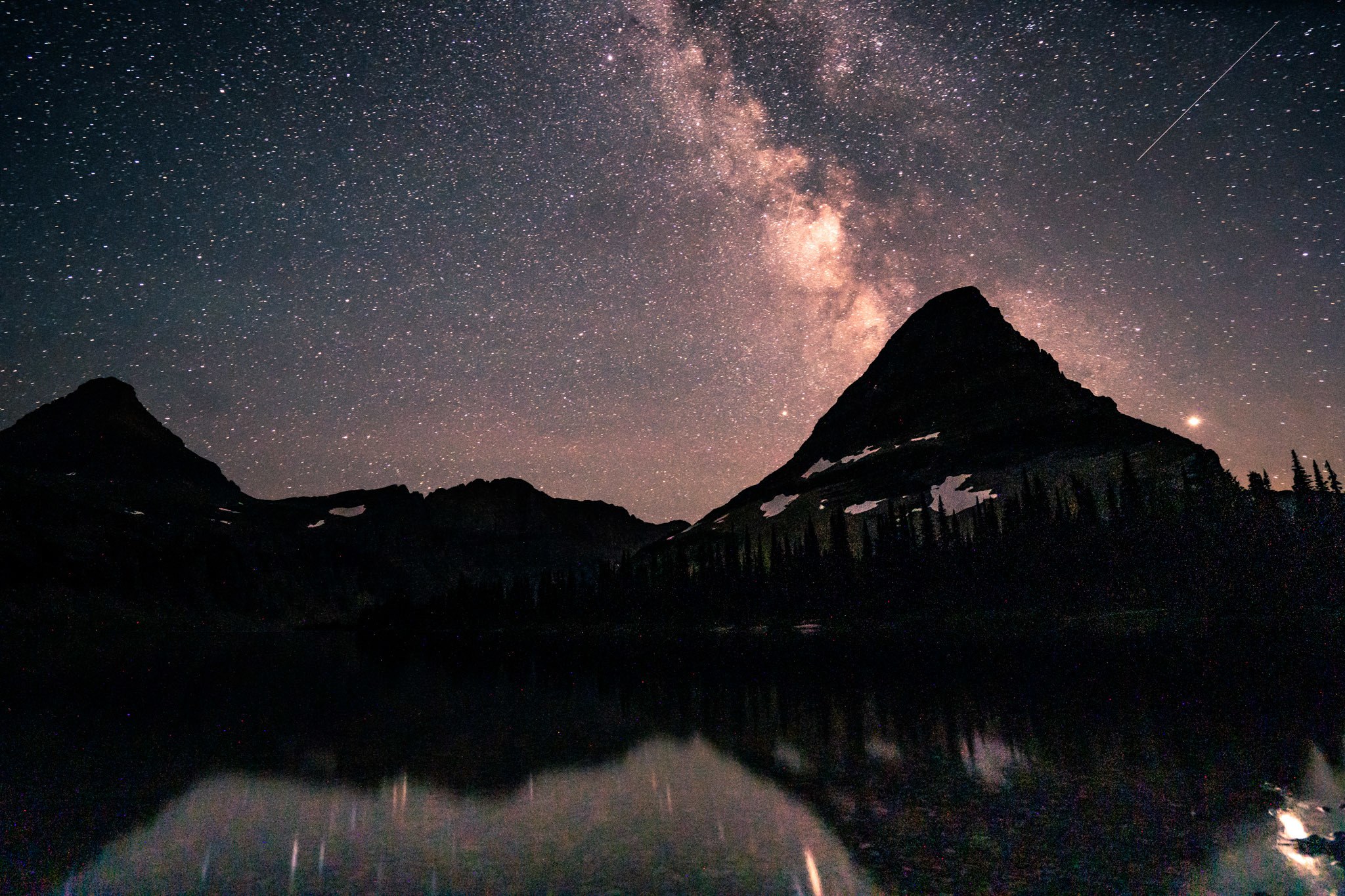 There is a reason why Montana is called "Big Sky Country." See it for yourself with this 530-mile, weeklong road trip:
Wyoming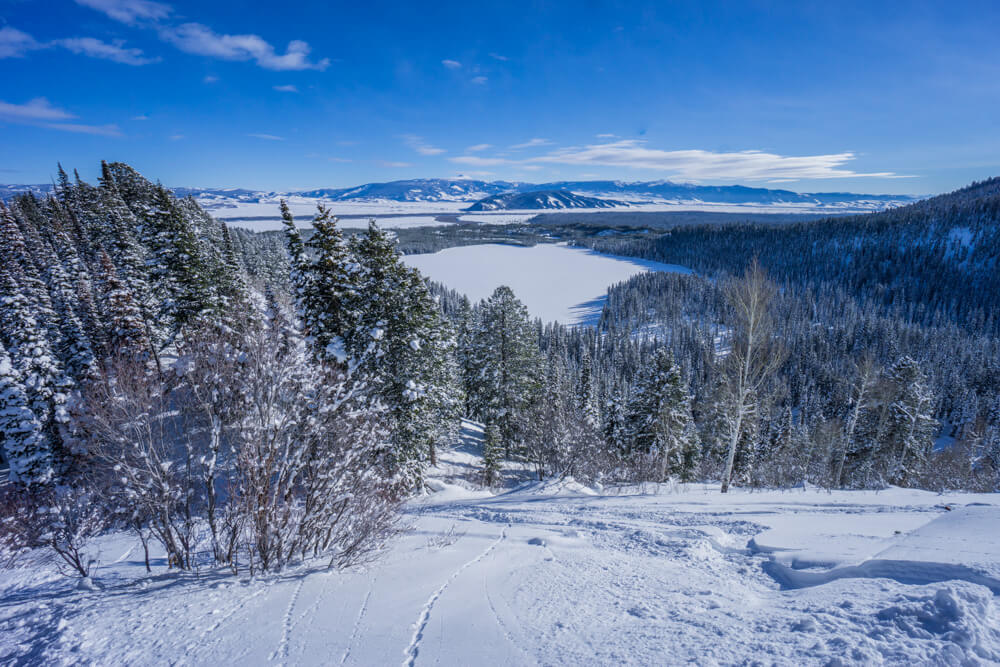 Wyoming is the least populated state in the US, leaving a lot of room for things like skiing and snowboarding in Jackson Hole, exploring the Teton Range, and visiting Yellowstone National Park. The perfect Wyoming road trip hits all three. This adventure spans about a hundred miles and takes six days (reverse the route if coming in from Idaho):
Yellowstone National Park: Spend two days here to catch an eruption from Old Faithful, see Steamboat Geyser (the tallest in the world), check out the travertine terraces of Mammoth Hot Springs, and visit two of Yellowstone's best waterfalls: Lower Falls (which is nearly twice the height of Niagara Falls) and Tower Fall. You can see them all on a full-day tour.
Grand Teton National Park: Drive 60 miles south and spend three days in Grand Teton National Park. Visit Mormon Row (home to the widely photographed Moulton Barns) and the Menor's Ferry Historic District, take a few picturesque drives, canoe on Jenny Lake, follow a scenic hike, and float or raft the Snake River. Be sure to enjoy a seasonal activity: swim at String Lake in the summer, take a horseback ride through autumn foliage, follow a ranger-led snowshoe walk in the winter, or watch elk, bison, deer, and moose migrate in the spring on a safari adventure.
Jackson Hole: Twenty-five miles past Grand Teton is Jackson Hole, where you can ski in the winter or take the Jackson Hole Aerial Tram up the mountain in the summer, as well as visit the National Museum of Wildlife Art, which houses works by Andy Warhol and Georgia O'Keeffe.
Oregon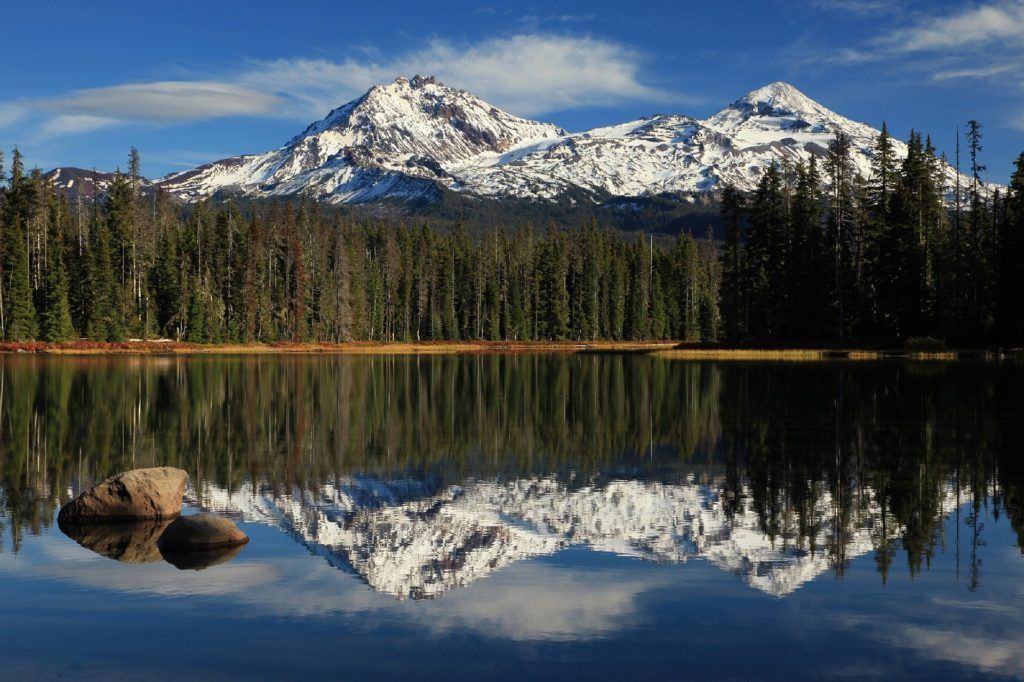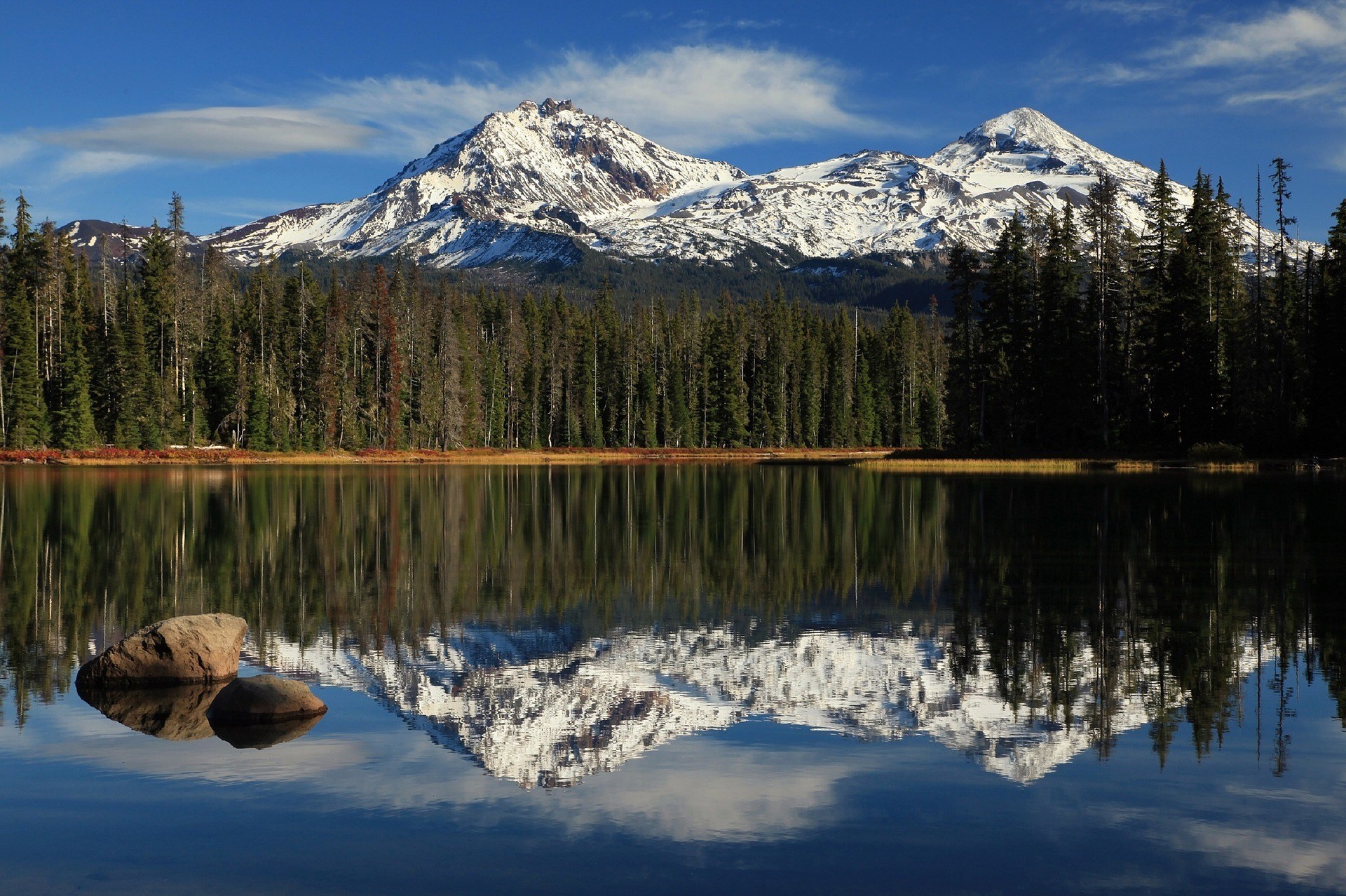 Oregon is special for its unique array of forests, rivers, coastline, mountains, and cool cities. It is home to some of the friendliest people you'll ever meet, and the best way to see it is on a road trip.
Oregon coast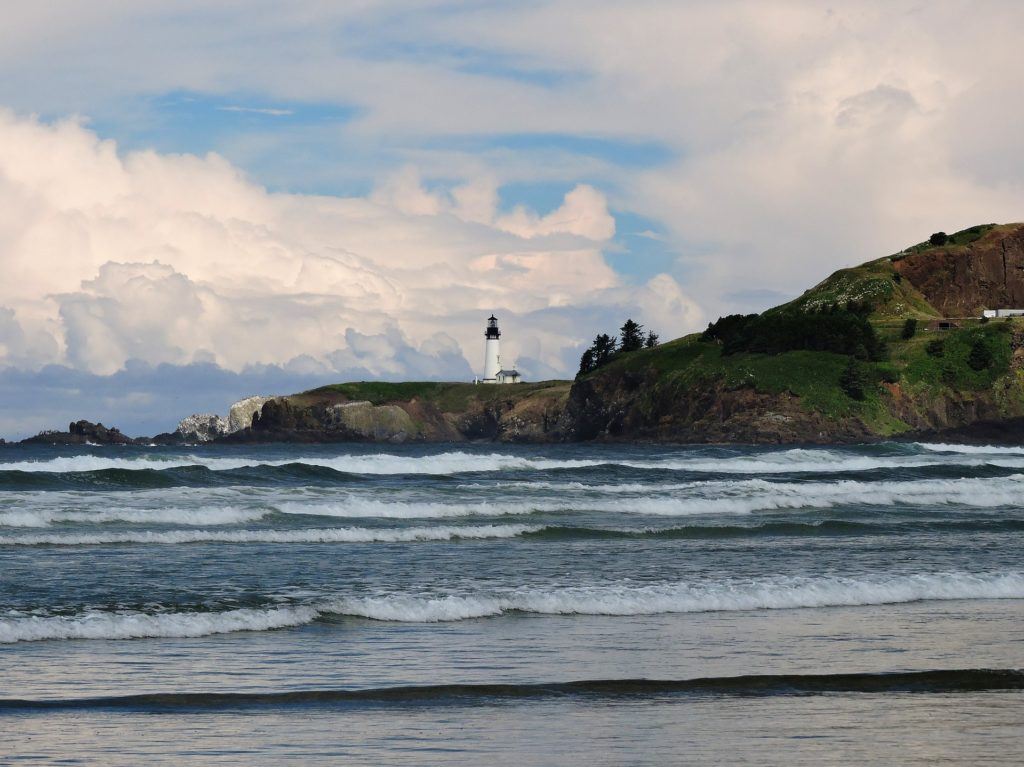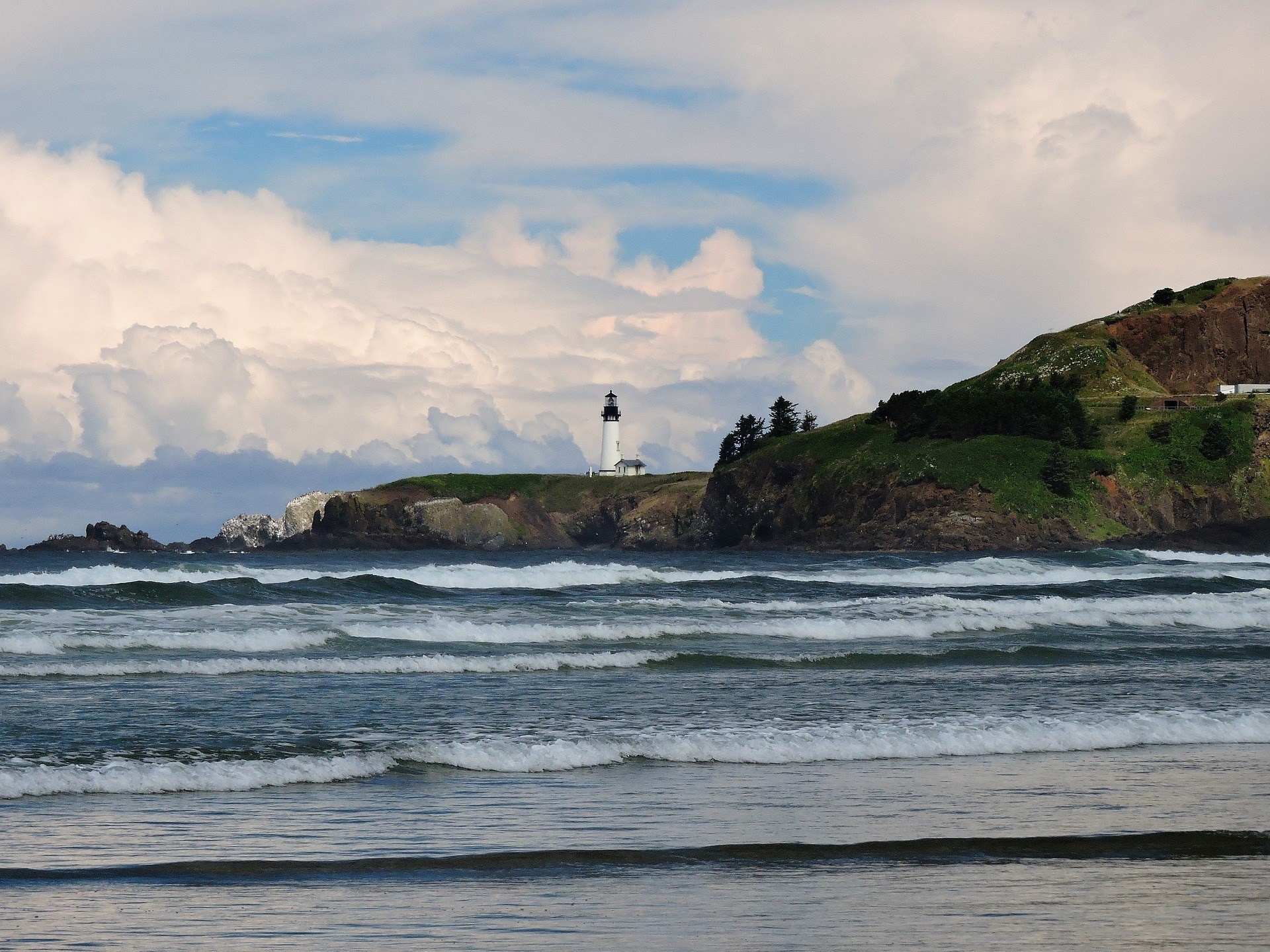 The beautiful Oregon coastline is dotted with countless charming seaside towns, making a perfect road trip. See a handful of them by starting at the top and working your way down, traveling 230 miles over a week:
Inland Oregon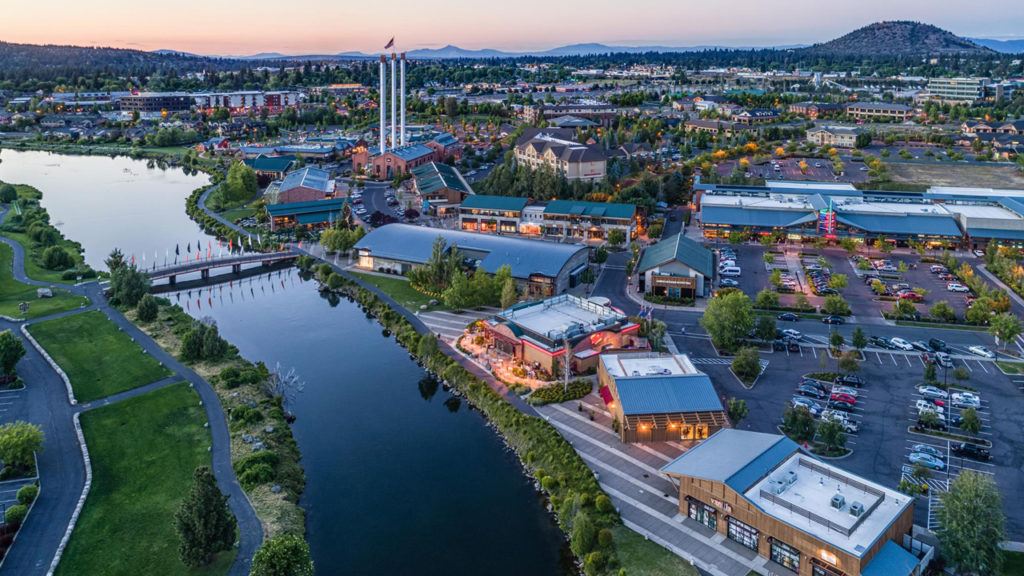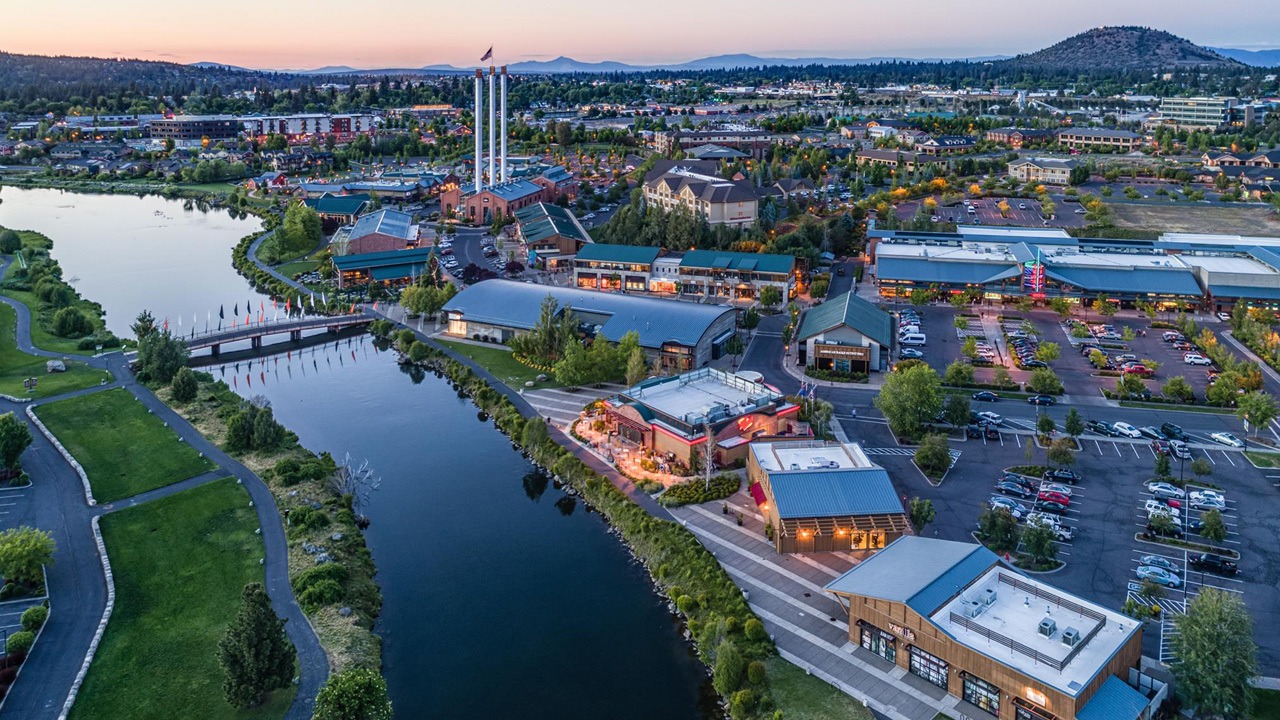 Some of Oregon's best cities are situated inland, also a great option. Start to finish, this road trip is sure to provide a balance of arts and culture, great food, and outdoor adventure! For this itinerary, you'll be covering about 260 miles, and you'll need about seven days to do it:
Washington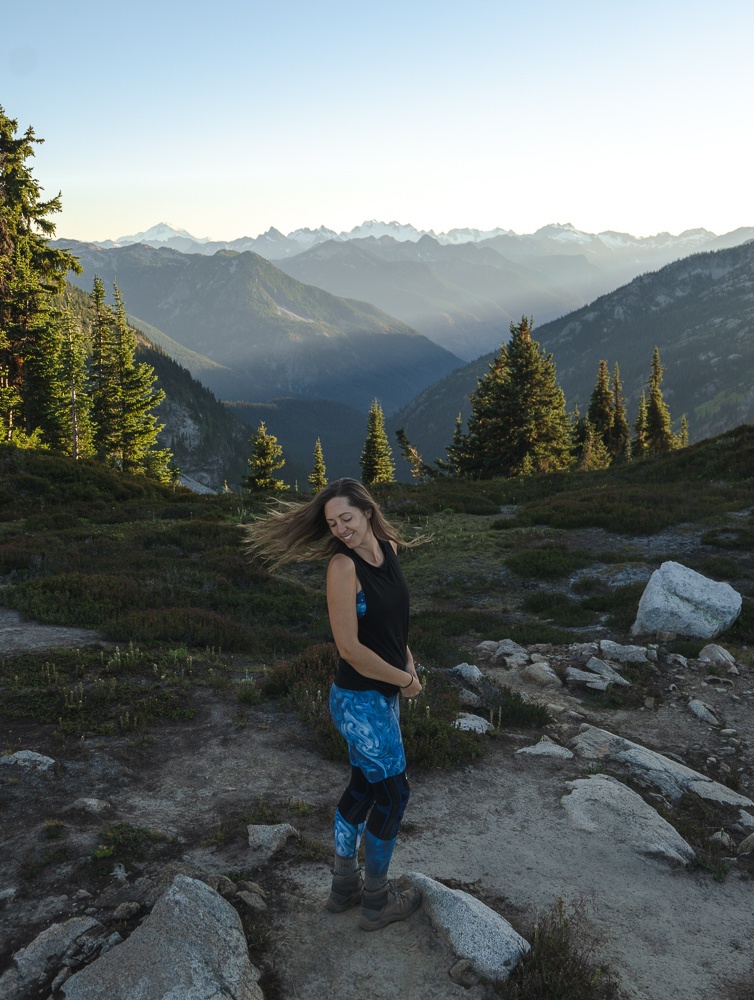 Typically, when Washington State comes to mind, people think of rain and the Space Needle, but from western cities on the water like Port Townsend to eastern ones like Spokane, its landscape and attractions are diverse. See all Washington has to offer with this 500-mile, weeklong road trip:
➵ Rent a car in Washington here
Olympia: Start in the state capital, at the bottom of the Puget Sound, by hanging out in West Bay Park and checking out the city's unique food scene, which is quirky and progressive but not pretentious.
Port Townsend: Drive 100 miles north to one of the coolest small towns in the US. Check out the Port Townsend Farmers Market (one of the best in Washington), take a free boat tour with the Northwest Maritime Center, and finish out the day by browsing the independent stores housed in old Victorian buildings on Water Street.
Seattle: Drive 60 more miles to Seattle, where you'll want to check out Pike Place Market, take a harbor cruise to see the city from Elliott Bay, visit a unique museum like the Museum of Pop Culture, and eat fresh seafood at a waterfront restaurant.
Bellevue: Across Lake Washington, visit the Bellevue Arts Museum (where you can sometimes chat with the artists themselves), hang out in Downtown Park, and zip-line through Eastgate Park with Bellevue Zip Tour.
Leavenworth: In this charming town modeled after a traditional Bavarian village, eat your way through the German sweet shops, hike the river trail at Icicle Gorge, stroll along the Wenatchee River at Waterfront Park, or visit the town's quirky Nutcracker Museum.
Spokane: Drive the last 180 miles to the eastern side of Washington to the capital of "the Inland Empire," where you can follow the Spokane City Drive, a self-guided tour of the best spots in town, or the Spokane Sculpture Walk for an experience you won't find in any other city.
Washington Hikes Road Trip
Looking to get outside as much as possible on your Washington road trip? Consider this quick itinerary to all of the state's best hikes, where you can park your car and head out into the wilderness to see gorgeous mountain peaks, lush forests, and more:
Seattle: Start your trip here, where you can rent a car for your journey.
Maple Pass in North Cascades National Park: This leg of the trip is the longest stretch at over 5 hours along Interstate 90 East and Highway 97, but the scenery is on point the whole way. Stay the night near the national park and hike Maple Pass first thing in the morning.
Lake Ingalls: Another long stretch back down south along Highway 97 will take you to Lake Ingalls where you can enjoy the beauty of this gorgeous alpine lake.
Skyline Trail in Mount Rainier National Park: This trail gives incredible views of Mount Rainier, plus plenty of waterfalls along the way. It's easily one of the best trails in Washington. Get there from Lake Ingalls by taking I-90 towards Tacoma (option to stay there for the night) and then Highway 161 down to the park.
Pinnacle Peak in Mount Rainier National Park: While you're near Rainier National Park, don't miss out on this epic trail that leads to the Pinnacle Peak Saddle where you'll have the most incredible view.
Rialto Beach: Another long stretch will bring you to Washington's rocky coast where you can hike from Rialto Beach to Hole-In-The-Wall which is a rugged and exciting affair.
Hurricane Ridge: Before heading back to Seattle, Hurricane Ridge in Olympic National Park plus the breathtaking Sunrise Viewpoint right next to it are the perfect ending to a perfect trip.
Colorado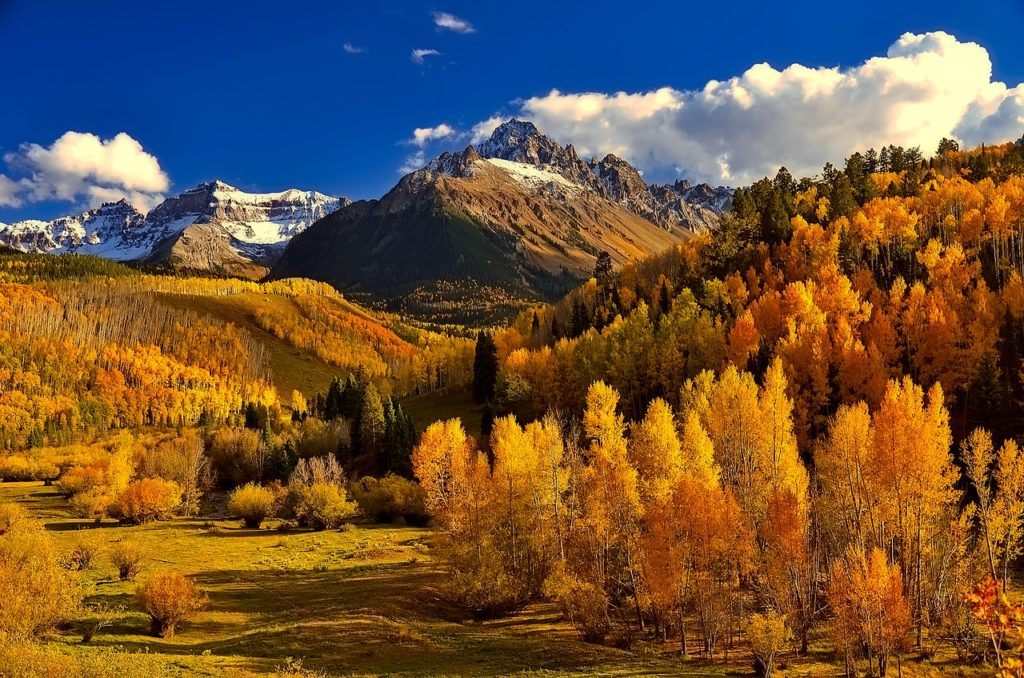 From skiing in the mountains to hiking through hills and meadows, Colorado is an outdoor enthusiast's dream. This itinerary can be cut in half, between Breckenridge and Rocky Mountain National Park, if 12 stops is too long of a trip. (Each leg consists of half natural sights and half cities, so you'll still get a full taste of Colorado with six stops.) All in all, this road trip covers more than 800 miles and takes about ten days.
➵ Rent a car in Washington here
Mesa Verde National Park: See the mesa-top villages and cliffside dwellings of the Pueblo people from hundreds of years ago by driving the Mesa Top Loop Road and Cliff Palace driving loop, or head to Park Point (elevation: 8,500 feet).
Black Canyon of Gunnison National Park: Highlights of this park, located 160 miles northeast of Mesa Verde, include Gunnison Point, Chasm View, Painted Wall, and Sunset View.
Aspen: After you've driven 115 miles from Black Canyon to Aspen, hike Red Butte Trail for 360-degree views of the Aspen Valley, ride the Silver Queen Gondola to the summit of the mountain, stand-up paddleboard at North Star Nature Preserve, and explore the waterfalls and ice caves along Grottos Trail.
Hanging Lake: Stop 50 miles down the road to follow one of Colorado's most popular hikes to this magical cliffside lake.
Vail: Raft the river, drive an ATV, catch a cool seasonal event, check out a farmers' market, or hike to a waterfall in this fun mountain town 60 miles northeast of Hanging Lake.
Breckenridge: One of Colorado's friendliest small towns, Breckenridge offers great hikes, tons of biking trails, cool events like the International Festival of Arts, and lots of sunny restaurant patios where you can grab a bite.
Rocky Mountain National Park: Take a scenic drive (especially on Trail Ridge Road, the highest continuous paved road in the US), hike to one of the park's eleven waterfalls and two cascades, go four-wheeling, or take a horseback ride through Rocky Mountain National Park, located 100 miles north of Breckenridge. Click here for a complete list of things to do in the park.
Boulder: Spend a day or two in Boulder by ordering beignets at Lucile's, exploring Pearl Street and the Boulder Creek Path, hiking to the famous sandstone Flatirons, and attending a show at the historic Boulder Theater.
Denver: Drive 30 miles to the state capital, which has plenty to explore, including the Lower Downtown (LoDo) neighborhood, Capitol Building, outdoor 16th Street Mall, Larimer Square, Red Rocks Park and Amphitheatre, and Denver Art Museum.
Garden of the Gods: Seventy miles from Denver is another national park, where you can take a tour on foot, electric bike, or Segway, as well as go rock climbing and check out Rock Ledge Ranch Historic Site.
Colorado Springs: The last city of the road trip sits next to Garden of the Gods. Spend a day exploring Seven Falls, hiking in Ute Valley Park, and driving the Gold Belt Scenic Byway.
Great Sand Dunes National Park & Preserve: At your last destination, plan on camping for a night so that you'll have the chance to stargaze with no city lights to obscure the view. But until the sun sets, sled down the sand dunes (some of which are hundreds of feet high) and (if your car permits) drive the adventurous Medano Pass.
-READ NEXT-
The perfect Colorado Road Trip Itinerary
Pin me for later: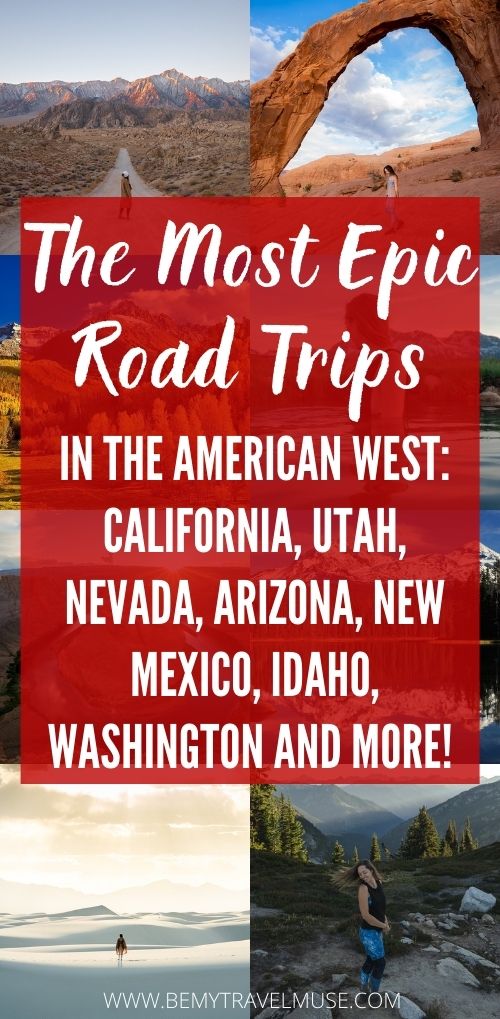 While an area as vast as the American West is tough to cover in a single road trip, or even a single lifetime, I hope this post helps you to pick a trip you'll love. The best news is, you really can't go wrong, as all of these places are gorgeous, though some are better suited to certain weather and seasons than others.
Choose the best adventure for you!
*Some links in this post are affiliate links for products and services we personally use and love. Any purchase you make through them supports us at no extra cost to you. Thanks so much!