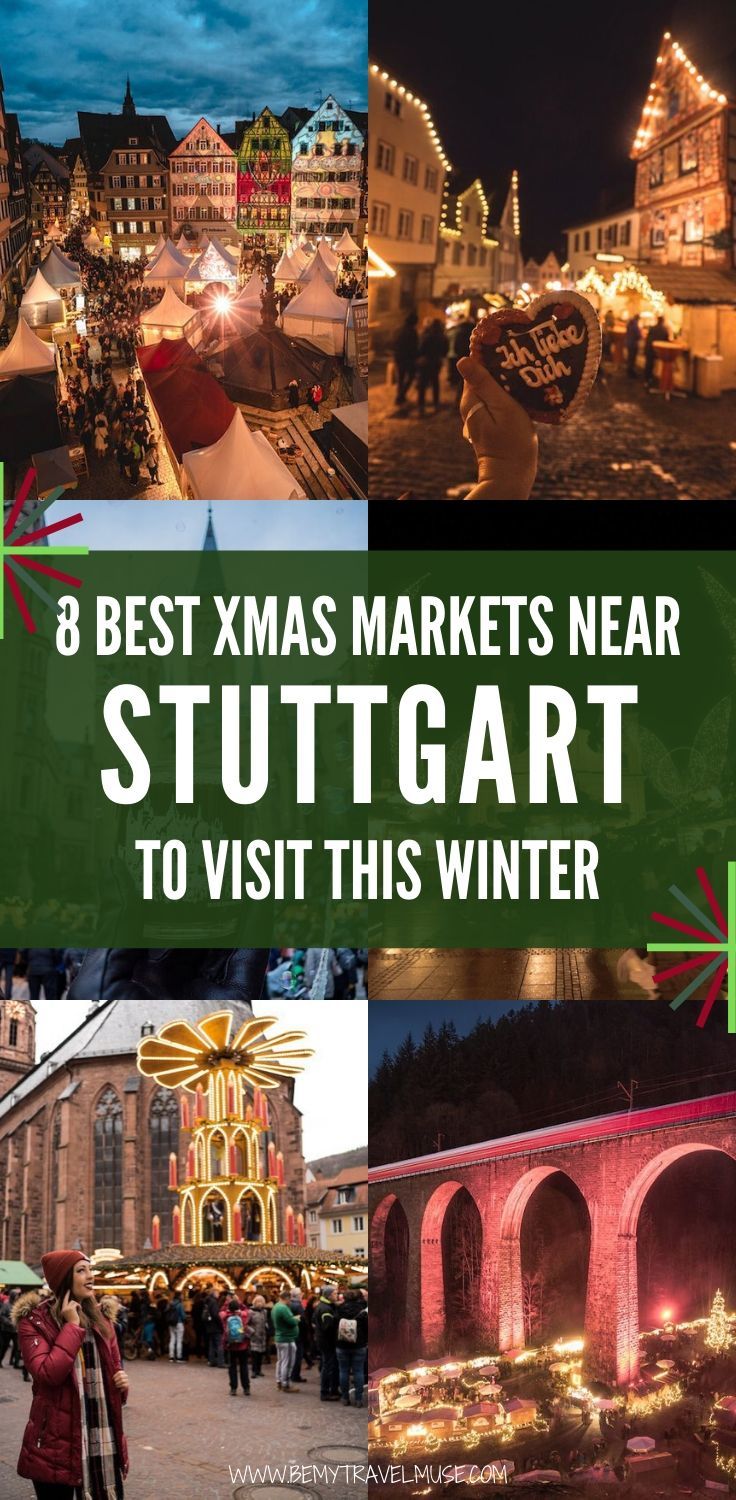 I admit, prior to making Germany my adopted home, I was pretty over Christmas. It felt to me like I was always indirectly buying myself a bunch of things that would live in the bottom of my closet for no reason. Then I went to a Christmas market and my cold, Grinch heart grew by three sizes.
I saw dazzling lights, I saw steaming cups of joy (mulled wine back then, now I love the kiddie punch), I saw mountains of chocolate and handmade wares. I was delighted! I was charmed.
Christmas markets are not the kitschy fake Christmas cheer I feared they would be. They serve great food, each has its own unique theme, and they are a true cultural experience. Believe me, I would be the first one to dismiss them otherwise, but I love them! In particular, I love the fairytale feel of the ones in Baden-Württemberg, home to the Black Forest, picturesque little towns, and the most amazing castles in Germany.
After much exploration, these are my favorite Christmas markets down south in Germany, each reachable by day trip from Stuttgart:
1. Bad Wimpfen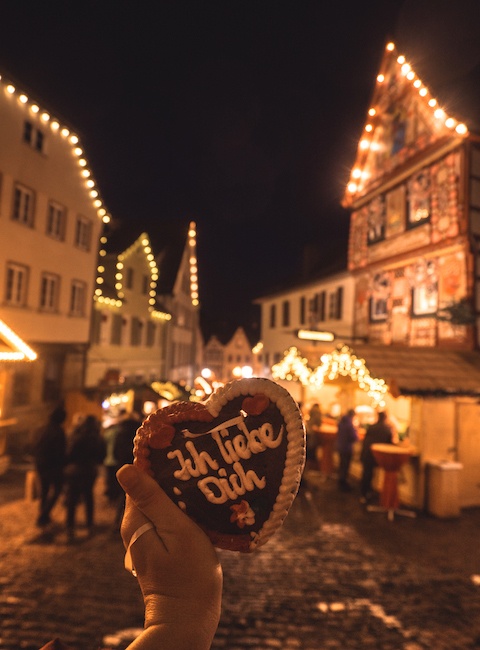 I've probably been to about 30 Christmas markets now, and Bad Wimpfen has to be my favorite. The town itself is adorable with the exposed beam buildings and quaint decorations reminiscent of the olden days.
As you wander up and up through the cobblestone streets, meandering down into courtyards, it seems like the entire old town is in on this Christmas market. It felt like it kept going and going, with new pockets to explore full of beautiful lights, delicious food, live music from a brass band, and lots of handmade ornaments and cookie cutters for sale, among other things. Though still popular, this was slightly less crowded than some of the other markets. I highly recommend this one.
Cost: Free
Getting there: Located about an hour and 20 minutes north of Stuttgart, take the S-bahn until Bad Wimpfen and walk for 2 minutes to get to the market.
When: Most weekends from the end of November until the middle of December. Check the tourism board website here.
2. Tübingen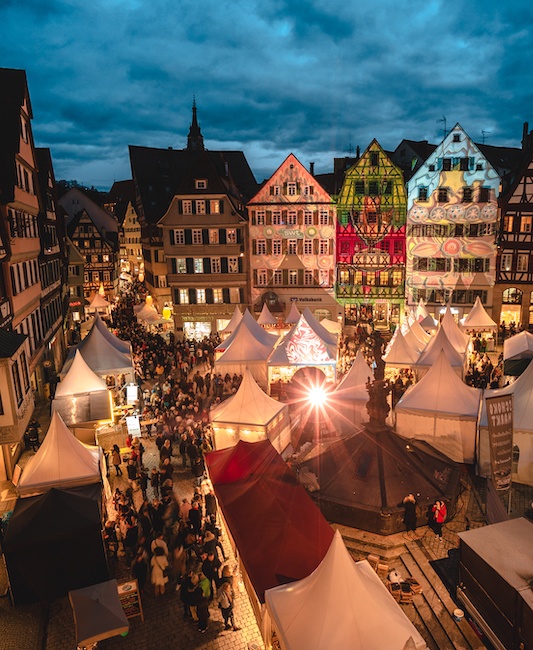 Brace yourselves and don your stretchiest pair of pants because Tübingen's Christmas market is all about chocolate! The chocolART Christmas market has chocolate in every form imaginable – hot chocolate, spicy chocolate, vegan chocolate (yay!), chocolate cake, chocolate spread, chocolate covered fruit, and chocolate booze. If you can imagine it, you can find it at chocolART.
This is a popular market, so I highly recommend getting there early and staying until the lights come on at night in the town square, projecting designs onto each of the adorable buildings. I adore this little town at any time of year but at Christmas it really comes alive!
Cost: Free
Getting there: Take the train to Tübingen Hbf then walk about 10 minutes across the bridge and to your left to get to the market.
When: Typically the week leading into the second weekend of December. More info here.
3. Heidelberg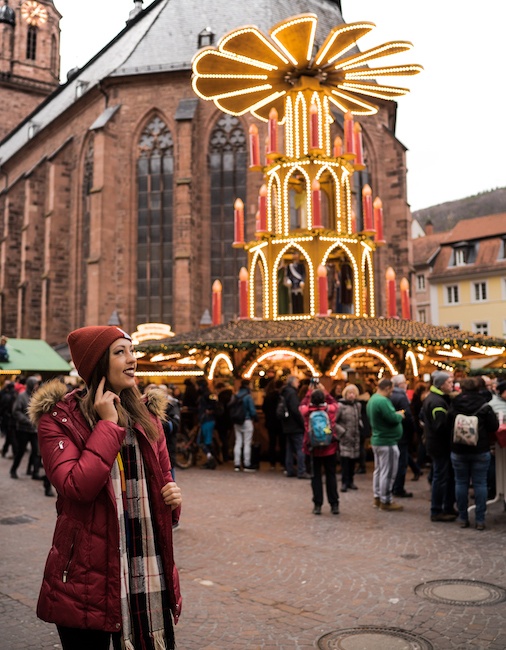 There are so many reasons to visit Heidelberg – the castle, the Philosopher's Way, and in the wintertime, the Christmas markets! Heidelberg's old town is already famous for how picturesque it is, so just imagine it covered in lights! I recommend getting there while it is still light out and hiking up to the castle for sunset and then walking down into the market.
Be sure to check out the ice rink, the building is lit up at night, and prepare to hang onto the little mug from this market – it's adorable.
Cost: Free
Getting there: If you arrive at the Heidelberg Hbf, take the number 33 bus to Altstadt. Depending on how you get there, you can also get off at the altstadt stop on the S-bahn train.
When: Usually every day from the end of November until December 22. More here.
4. Ravennaschlucht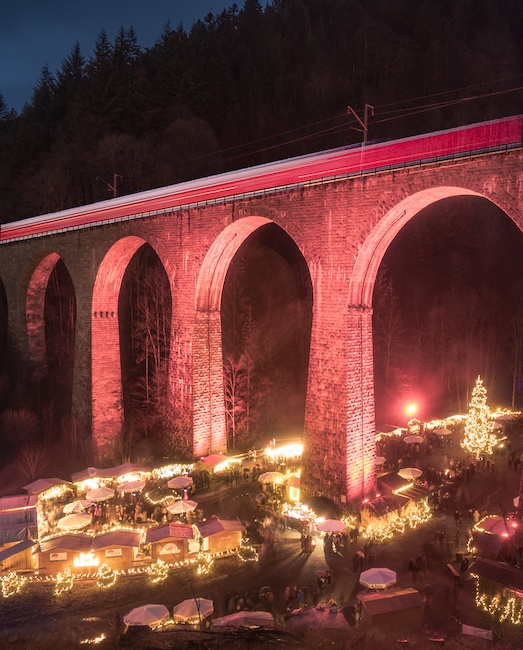 Nestled in the Black Forest, this Christmas market is located underneath a gorgeous archway bridge, which lights up from blue to purple, pink, red, gold, and green. As if that wasn't magical enough, a brook runs behind the market that is also lit up for Christmas.
The booths at this market have modern artwares for sale as well as some inventive foods, like a 'Christmas wrap' with cheese and salsa wrapped in a tortilla. Or the dessert version which is hazelnut chocolate wrapped in a tortilla. It sounds wrong but it's a popular booth! Be sure to climb up the hill above the market to get the view pictured above, and watch as the train runs by every 10 minutes or so.
Cost: 3€ on Fridays or 4€ on Saturdays and Sundays.
Getting there: Take the train to Himmelreich or Hinterzarten. From there the market provides free buses that seemed to be running constantly.
When: Friday, Saturday and Sunday almost every weekend in December. Click here to look at the website, which is in German but dates are universal.
5. Hohenzollern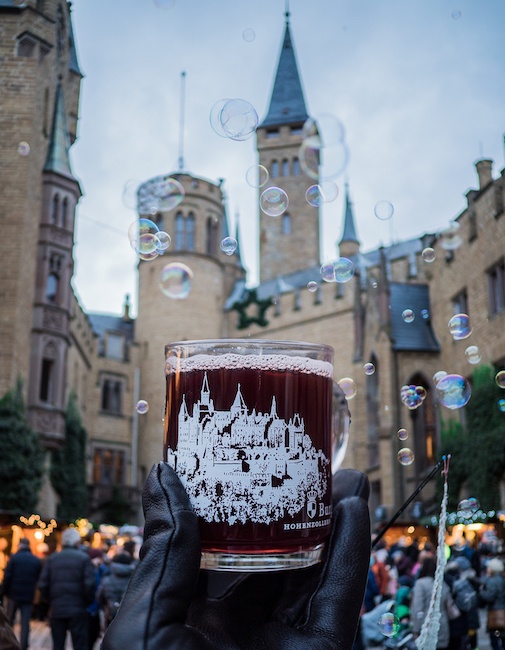 It's no big secret if you've seen my other writing that this is my favorite castle. I truly feel it's the fairest in all the land. It's beautiful from afar, and you should see it (here's how) but it's beautiful up close at Christmas time as well when they host the King's market.
The market takes place almost entirely outside, so don't plan on spending much time in the castle. Instead plan on stalls with roasted chestnuts, cute handmade items like carved wooden St. Nick dolls and teddy bears, and a market that kids will love thanks to the bubble man and a dressed up Saint Nicholas with elves. Though it's the most expensive one on the list, this market is worth checking out, especially since it's one of the only ones that takes place in a castle!
Cost: 10€
Getting there: I have only ever driven a car to Hohenzollern since it seems the only way I'm aware of to get to the viewpoint. However there are shuttle buses running from the Hechingen train station for the Christmas market.
When: The first and second weekends of December. More info here.
6. Esslingen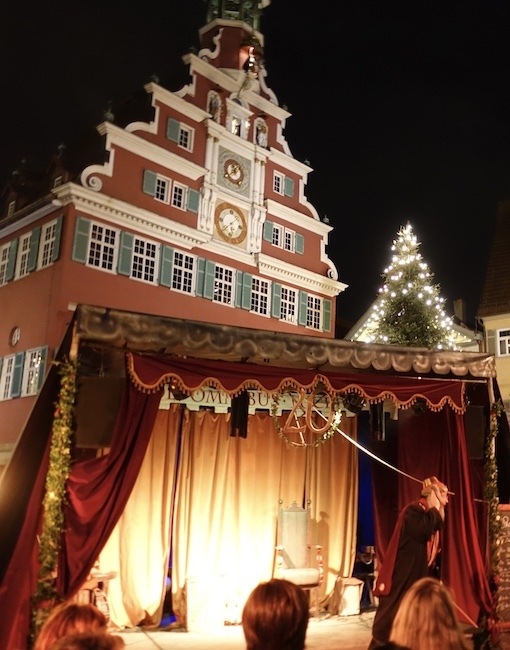 When I was a kid, I was obsessed with princesses, went to Medieval Times for my birthday, and loved the Renaissance fair. So when I found out that they had medieval markets in Germany I was like wow, they really checked all the boxes with this one!
I love these markets because they often keep to the theme pretty well, with old-school games like archery and axe throwing and food and drink that is inspired by the times as well. These are the perfect markets to buy handmade wooden items, or leather if you're into it.
The medieval market in Esslingen must be one of the biggest ones in Germany. It's certainly the largest medieval Christmas market I've ever been to, and I love the variety.
Cost: Free
Getting there: Get off at the Esslingen Hbf and walk up Berliner Str. for about five minutes and you'll start to see the market.
When: From the end of November until Dec 21. More info here.
7. Ludwigsburg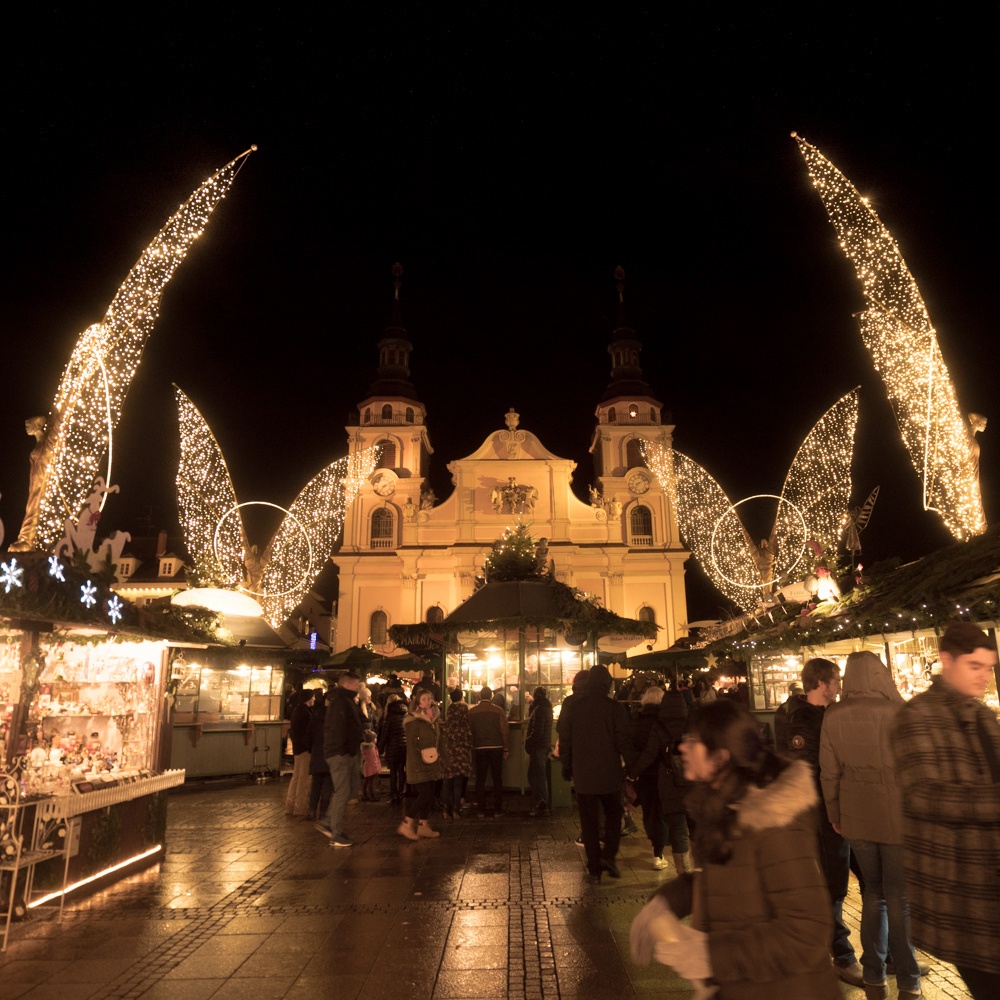 If you love dazzling lights then you'll love the baroque market in Ludwigsburg, just 20 minutes north of Stuttgart. The town lights up with golden wings guiding your way from the station to the main market square, where four golden angels fly over the Christmas market. This was one of the most beautiful markets I visited thanks to all of the golden lights.
There's a merry-go-round for kids, lots of stalls with lights, knits, ornaments, and of course mulled wine and food. This one is worth stopping by on your way home from Bad Wimpfen, or as the destination itself.
Cost: Free
Getting there: Take the S-bahn to Ludwigsburg Hbf and walk for about 10 minutes to the market square. Golden wings will light your way.
When: Daily from the end of November until December 23. More info here.
8. Stuttgart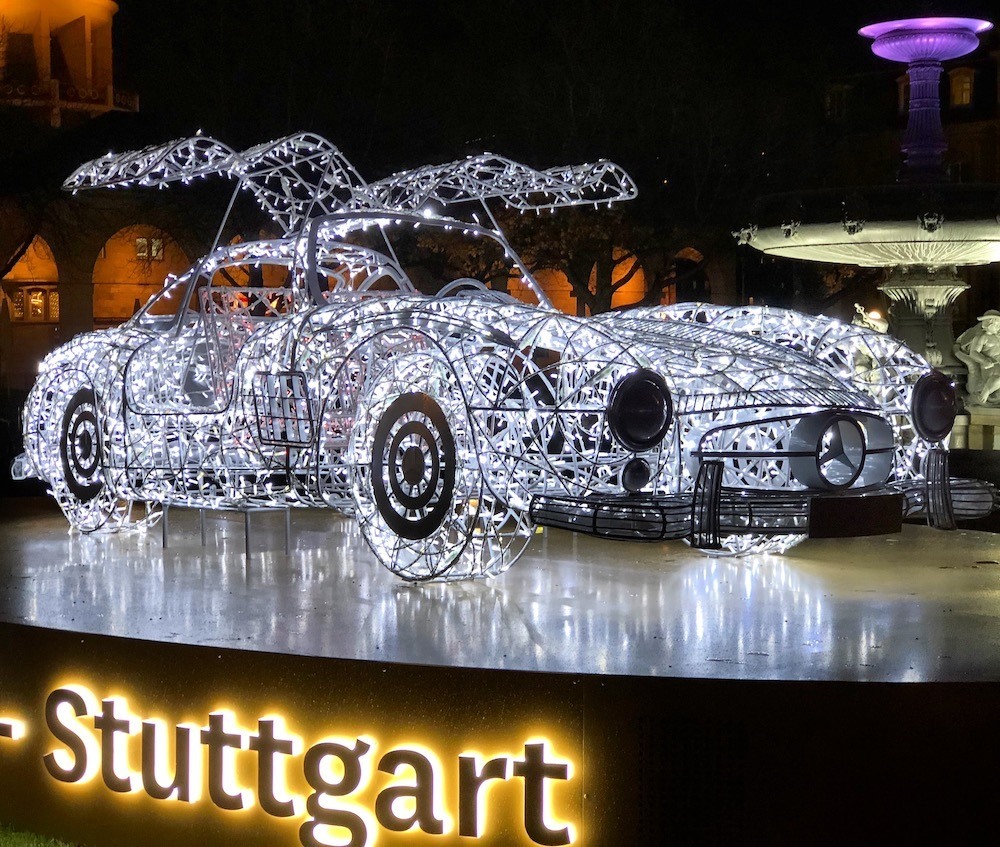 We can't talk about Stuttgart Christmas markets without talking about the big one in Stuttgart itself! Located at the Schlossplatz stop on the U-bahn, Stuttgart's main Christmas market is known for all of its dazzling lights. There's a giant Christmas tree, an ice skating rink, blocks of stalls with lightup stars, gingerbread, and food and drink, and even a light up Porsche and Mercedes.
Cost: Free
Getting there: Schlossplatz is the closest station.
When: Daily from the end of November to the end of December. More info here.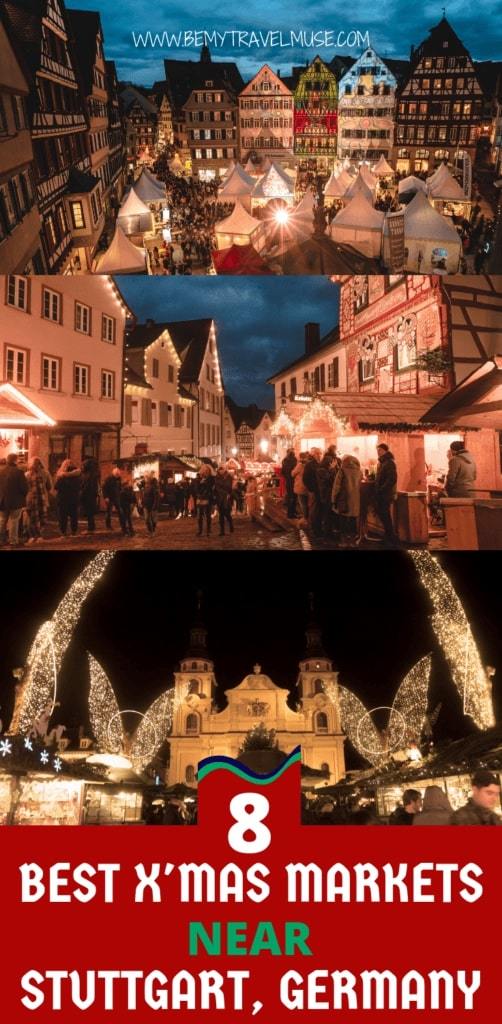 While there are hundreds of Christmas markets to choose from, these are a few of my favorites, particularly in amazing Baden-Württemberg, which has the best Christmas markets in Germany, IMHO.
I'm sad to be leaving this wonderful country (you can read more about that here) but am so glad that I got a chance to explore these markets before taking off. This will always be my favorite place to celebrate Christmas.
*This post was brought to you in collaboration with Tourismus Baden-Württemberg. All thoughts on these amazing markets and how much I love Baden-Württemberg are as always, my own. 
Click to read more posts about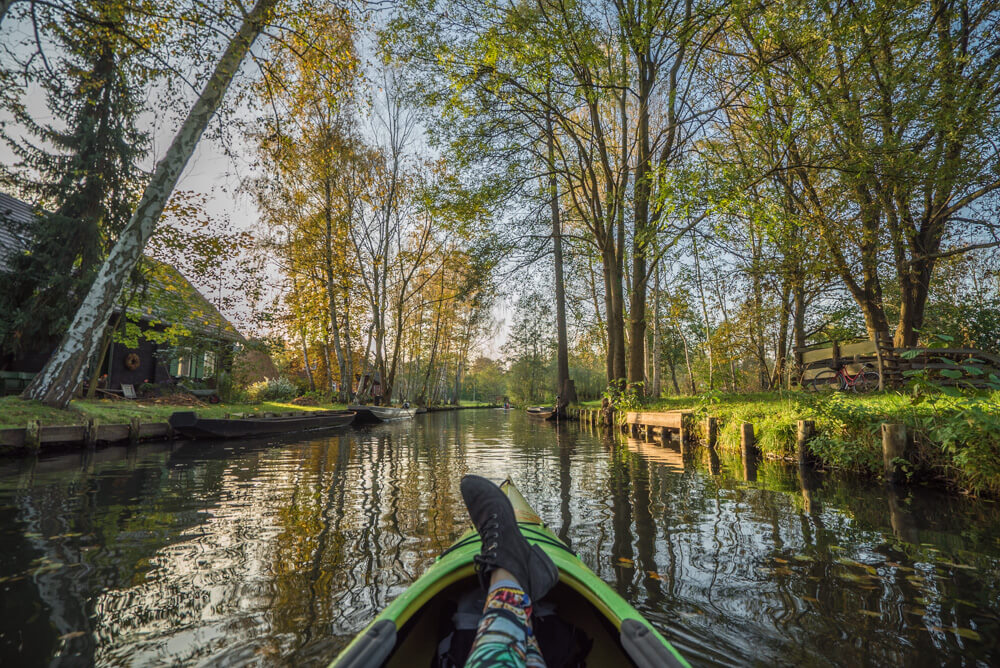 Germany