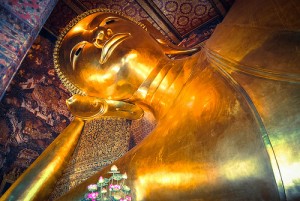 After the fiasco of forgetting my SD card at the Grand Palace in Bangkok, I made sure not to repeat the same mistake the next day at Wat Pho – a temple famous for the giant reclining Buddha it houses.
In contrast to the Grand Palace, Wat Pho was downright peaceful (which may have been due, in part, to me getting there pretty close to 8am when it opens).
My takeaways: this place is covered head to toe in gold.  As my friend Weng put it, it's bedazzled, and I can't get "I love goooold" from Austin Powers in Goldmember out of my head.