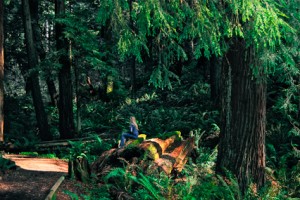 This Wednesday's getaway will be slightly different than the usual photos of music festivals or tropical locales, and you have Matt Gibson, who nominated me to compete in Travel Supermarket's Capture the Color PhotoBlogging competition, to thank for it.
Each photo competes for various prizes in a specific color category.  Given, there are actual, real, live photographers participating, so I'm in it for the fun (and because I like to feel included).  Let's get on with it, shall we?
Blue:
When I think of blue, my mind's eye immediately returns to Caye Caulker, Belize.  Given that I was a novice and impressionable diver when I first dove off the coast of Caye Caulker, it was easy to win me over.  The crush has still not subsided.  Caye Caulker: I'm so blue without you. 
Green:
 I snapped this in Humboldt, California in the Giant Redwood Forest.  I let my friend walk ahead of me as I creepily lumbered behind her and took secret, candid photos.  The awe I know she feels sitting on a trunk thousands of years old comes through in this photo.
Yellow:
Snapped in San Ignacio, Belize, this photo captured the overall feel of the town for me: bright and warm, with a cheeky twist.  Everything in the town was written in this dialect – if it's hard to read, it says "No Sittin' on The Steps". (Not even 5 minutes after I took this, sure enough, some young hooligan was sittin' on da steps).
White: 
Mad River Beach in northern California may be the coldest beach I've ever visited – which, surprisingly, changed my life a little.  I always used to think beaches had to be warm and tropical to be worth a visit.  The gelatinous sea foam, courtesy of the churning waves of the powerful Pacific, showed me that even cold beaches are magical.
Red:
Newport Beach, California, is one of the last places I'd expect to find an old, run down jalopy covered in beautiful spring flowers.  Framed by mansions and Bentleys, it's a breath of fresh air to see something like this still around these parts.
—
As part of the contest, I get to nominate five other lovely travel bloggers to participate.  Here are my big picks:
Carrie Kellenberger – I almost don't want her as my competition because she has so many good shots from all over Asia, which she often shares on her blog, My Several Worlds.
Victoria Brewood – I am looking forward to seeing some Bali shots from her site, Pommie Travels, in her submission!
Diana Edelman – I see pretty awesome photos on D Travels 'Round all the time (plus I creep her photos on Instagram).  I know she's got some great ones!
Rob Lloyd – Rob's been filling my RSS feed full of envy-inducing beautiful photos of British Columbia. He should have some pretty amazing green category options.
Bryon Dorr – He's all about "travel through an adventure sports lens" so I say we make him prove it, in 5 colors of the rainbow.
(if you've already been nominated, sorry for the redundancy.)