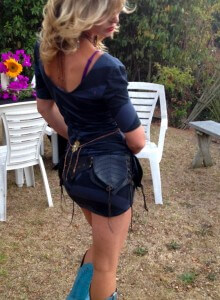 The spring and summer months are my absolute favorite – always packed with awesome music festivals and exciting things to do.
As I think back on my first festival, I was extremely unprepared.  I had no idea what to wear, what to bring, and worst of all, I didn't realize until it was too late that I had forgotten some essential items.
Don't do what I did. Prepare adequately before you dance the day away by bringing the following:
Something that makes you stand out
For survival at larger music festivals, such as Electric Daisy Carnival, Coachella, Burning Man, etc., one must use ancient methods of communication, such as setting meeting times and locations.
At festivals that host tens or hundreds of thousands of people, cell phones become completely unreliable.  The density of the crowd delays messages, if they get through at all.  Don't even try to call anyone, they won't be able to hear over the crowd.
The only way to meet up is to hold or wear something that glows, lights up, or makes you stand out from the crowd.
Something to protect your toes
Two things are true at big festivals – dust gets kicked up, and there are a lot of carelessly dancing and roaming feet.
Don't let your toes be a casualty.  Leave the sandals at home.
Something smart to carry your gear in
Do you know what's pretty much impossible at a music festival? A purse.  Don't even try it.  Just say no.
So where can you put your hand sanitizer (trust me, you want this), sunglasses (it will be light and then dark later, yes?) sunscreen, cash, chap stick, ticket, cell phone, and other items?
Pockets only work if your outfit actually has ample pockets, which, mine tend to not:
What's a fashionable girl to don if she doesn't want to turn to the grandma-esque fanny pack?
A super durable, rugged, and most of all cute belt, that's what.
Check out Desert Rogue Designs for some pretty reasonable pricing on these.  Get a discount when you use BMTM5 code at checkout.*
Something to protect you from the sun:
Most music or summer festivals take place, at least partially, during the day.  And most festivals, as it were, are in harsh, hot, desert environments.  This is the perfect storm for dehydration and sunburn.
Have a trusty water carrying device that you refill regularly.  Make the time to get water.
There's nothing more draining or painful than getting horribly sunburned on day one of a long music festival.  Wear sunscreen, carry sunglasses, and wear a hat.
Do you have some tips of your own?  I'm all ears!  Comment below!
—-
*In the spirit of full disclosure, Desert Rogue is a start-up that is owned by a friend of mine.  I love his product and use it myself. I get a small kickback when you purchase using my discount code.