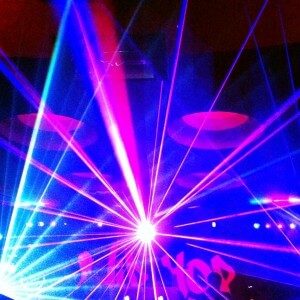 … Is pretty friggin' awesome.
Day 7
After a long day playing around at Angkor Wat, the clock turned to midnight and it was time to see what Siem Reap had to offer by way of nightlife. We deserved a round of Angkor beer after biking all around the temples, right?
Right.
Two dueling bars directly across the street from each other constitute the main night life for foreigners in Siem Reap, on a street known as Pub Street.
You know you're at the right place if you look up and see a brightly glowing sign that proudly proclaims that the area is, indeed, "pub street".
At draft beer running about $1, the place gets more and more rowdy as the night goes on.  We rolled up in a giant group from our hostel, doubling the crowd at pubs.
I taught the varied crowd the term "mobbing out"*. It was awesome, we had a pair of Irish girls who took down grenades like they were water (a shot of tequila, and jager, followed by red bull – I cannot drink these without ralphing, seriously), lazy-eyed Michael, a Melbourn-ite who had the unlucky fortune of an eye infection at the time, Gemma, a super rad (I taught her the word "rad") chick from London, and the ringleaders: a guy from England and a dude from Australia who had joined forces in Saigon and made their way to Siem Reap to get us all mobilized and going.
It was a good time.
With songs like Gangnam Style on loop, almost everyone at some point moves to the street between the two bars to get their dance on.
A few hours into the night, young local children came out to dance with us.  Though sad, since these kids are clearly working to sell bracelets, I've got to say, they've got some impressive rhythm.
Just look at how this girl showed my friend up:
The sky opened up and rain started soaking everyone, most of whom couldn't have cared less and continued dancing to the music in the rain.
After we had our fun at Pub Street, we headed to an all-Cambodian night club known as Hip Hop.
The locals all danced with us as we enjoyed the electro-style music and danced in the lasers. I felt welcome and enjoyed the music to the fullest.
Suffice to say, Siem Reap has some awesome night life.
*mobbing out: An action carried out by movement in a general direction. Can be singular but typically involves a group. Ex: We're mobbing out to pub street, fancy a brew?