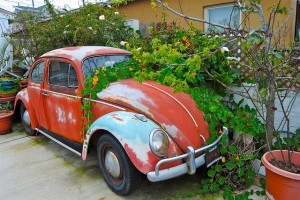 Growing up, Newport Beach was the beach we always came to.  In my mom's old Volvo, we'd ride along in the back seat with a cooler full of PB&J and Squeeze Its along with 75 cents to buy a large shave-ice.  We (usually) behaved because these were the summer days we looked forward to the most.  I loved to swim.  I used to pretend I was a mermaid – I wanted so badly to be able to breathe under water so that I could just stay there.I always thought to myself, if things go right, maybe I would live here one day.
Fast forward 15 years and here I am, on the very same beach.  But, like a real brat, I'm falling out of love with it.  There are things I didn't see as a kid – things beyond the beach.  There's a sense of outsiderness I still feel even after setting up a home here for 4 years.  I don't know my neighbors.  I don't smile to strangers.  Nobody does that here.
I find it odd, though.  It doesn't seem like the same place I idolized as a child.
But then, I start to feel guilty.  If I can't find things to love about here, how can I love anywhere?
So, as part of my challenge to myself to explore my surroundings, I started making myself go outside and take in the beach more (as my destination that is, at most, 25 miles away), and finally began experimenting with photography (something I'd been telling myself I'd do for far too long):
I try to come when I think nobody will be there – a weekday in the spring or a day with imperfect weather.  I get to bond with my childhood beach again.  I get to remember what had me so enchanted as a child:
The deep blue sapphire waves form curls, and the water glimmers.
In the distance, if it's a clear day, I might be able to see Catalina Island.  If I just sit and watch, I'll probably see pelicans diving.  I might even see dolphins in the waves.  They love the surf, too.
It is moments like this that take me back to the sandcastle-building days.  When shell-searching made more sense than soul-searching.  It's funny how complicated adulthood gets.But on a day like today, "complicated" takes a vacation, and I fall in love with home again:
Then there are those quirky little things I get notice and enjoy as an adult:
All said, though it may not still be the playground of my childhood dreams, Newport Beach is still a pretty awesome place, and I'm thankful that I get to enjoy it.
Do you need to fall in love with home again? Take on the 25/50/100 challenge!