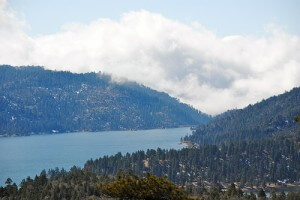 As part of my 25/50/100 challenge to myself (and now the rest of the interwebs), requiring that I visit a destination up to 100 miles away from my home base in an effort to appreciate my surroundings, I headed to Big Bear Lake, California in February.
Big Bear Lake is a mountain resort town in the San Bernardino mountains that frame Greater Los Angeles.  Most people go there to ski and snowboard in the winter months, and to enjoy the fresh mountain air in the summer time.
Due to this year's uncharacteristically warm winter, and therefore lack of snowfall, the cabins were discounted to a rate that was too good to pass up.  So, with a group of friends and a Husky named Doc, I made the 100-mile drive to Big Bear Lake – where I hadn't been since childhood.
We arrived in the evening, dined on Mexican food at El Jacalito Grill (food – good, service – not so much), and spent the evening playing Apples to Apples and Scene It.   I thought I'd surely lose since the running joke around my friend circle is that I haven't seen any movies, but what everyone overlooked is my keen ability to retain useless information, like movie posters and commercials, so I still somehow won.
The next morning, we made breakfast, and headed out on a hike.
Most people would probably choose to ski or snowboard at this point. Even though the snow wasn't falling, and wasn't really expected to, the local ski resorts make their own snow, so the runs remain open.  However, I unfortunately had reconstructive shoulder surgery a few months prior, so hopping on a moving board of doom was surely a no-no.  Besides, Doc was far more partial to hiking with us than staying inside while we snowboarded.
We took the Alpine Meadow Path, which is a 3.5 mile, "very easy" rated hike along the Pacific Crest Trail, accessible from the Big Bear Discovery Center, where parking is free.  We chose this trail because of the breathtaking views of the Lake, and, well, we wanted an easy-ish hike.
Afterwards, we went in search of a stretch of open field big and steep enough to do some sledding.  There was still some old snow on the ground, and we weren't keen on paying $25 per person to use the alpine sleds.  We drove for about and hour looking for snow with no luck.  Just as we were about to give up, the sky opened, and snow started falling.
It was beautiful.  Each flake looked like a crystal, kissing my face and bringing back childhood memories. I hadn't seen falling snow in 15 years, seriously. Most exciting of all, it was Doc the Husky's first time encountering snow, and he took to it like a natural.
We returned to our rental cabin only to realize that the best sled area was right next to us all along.  The unexpected falling snow had blanketed the perfect route, just for us.
Doc was so enthused, he even sang us a song:
In short, this wasn't a trip I would ordinarily have thought of taking.  Most of the time, I want to get far, far away when I travel.  This weekend helped me realize that appreciating what is close to home can create cheaper, more accessible, and more frequent vacation opportunities while also helping me to appreciate my surroundings and support my community.
Overview:
Getting there: From Greater Los Angeles, take the 210 East to the 18 North to get to Big Bear Lake.
Staying there: Book a cabin through a private renter or property management company.  Look for deals during the low tourist seasons.
Eating: Most cabins offer kitchenettes.  There is a Von's grocery store off the main road.  I'd suggest cooking meals as opposed to eating out, as service is particularly slow and bad in Big Bear Lake (after sampling 4 different restaurants, I can say this with certainty).
Night Life: There really isn't any.  The closest thing to night life is a bowling alley that serves Pabst Blue Ribbon on tap.  Classy.  Bring some board games.
Activities: Skiing, snowboarding, hiking, fishing, bird watching.
—
Want to get to know your surroundings better? Take on the challenge!