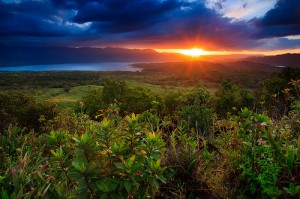 I'll never forget the conversation we had with our white water rafting guide in Arenal, Costa Rica, a mountainous volcano framed by streams, waterfalls, and a mirror-like lake.  The volcano is still quite active, regularly spewing out spectacular molten-rock light shows.  So, we asked our friend, Tino, how do you feel about living so darn close to a quite active volcano? What if it erupts for real?
"We'll probably all get together on our porches and watch the show," he said.
That kind of laid back approach to life is something I'd like to adopt a little more of.
Without further ado, here is the best Flickr has to offer by way of Arenal, Costa Rica:
*click on the photo to see the artist's Flickr page
Do you have a destination in mind you'd like to see?  Want to see your photo here?  Comment below!